New Jersey Schools Consider Denying Lunch To Kids Who Owe $20 Or More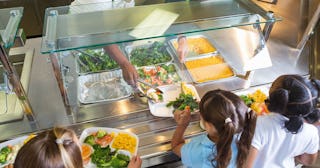 SDI Productions/Getty
Refusing to feed kids lunch because of their parents' debt? New Jersey school are considering it
A New Jersey school district held a meeting Tuesday where they considered strictly enforcing a policy already on their books that says if a child owes more than $20 in cafeteria debt, they won't be given any food at lunchtime.
The discussion sparked immediate backlash from the community, where more than 6 percent of families live below the poverty line, and around 20 percent of families are "economically depressed." The school district created the rule in 2017, when it wiped out $25,000 in lunch debt and allowed all families to start again from zero. In just two years, the debt has ballooned back up to $18,000, officials said, which is why they're considering beginning to enforce the rule.
"If we don't adhere to our policy, we're going to be perpetually, I feel, chasing after this problem," Assistant Superintendent Lynn Shugars said.
Backlash was almost immediate.
"Cutting off kids' lunches? Ridiculous. Unacceptable. Will get to the bottom of this to make sure it doesn't happen. We are a community that's better and smarter than this!" said Cherry Hill Township Council President David Fleisher.
Amid the criticism, school officials clarified their plans, which included giving kids just a tuna sandwich for lunch if they owe at least $10 in debt, and cutting off lunches altogether only after they reach $20 in debt and their parents have been sent two warning letters about the debt that include instructions for signing up for the district's free and reduced-cost lunch program.
"The letter encourages parents to reach out to the district to discuss payment options and explains how they can sign up for the free and reduced-price lunch program," district Superintendent Joseph N. Meloche said in a statement. "On a case-by-case basis, delinquencies have been forgiven for families who do not qualify for free and reduced-price lunch, but who are facing hardships nonetheless."
Meloche told reporters the problem isn't kids whose families aren't able to pay for their lunch — it's families who, he says, face no hardship and aren't willing to pay. We can't help but wonder how closely Meloche is reviewing the financial information he has on each of those families in order to come to that conclusion. Oh, wait, he has no financial information, and he's making a broad and arbitrary assumption about people's ability to pay for food for their kids.
This fight comes at a time when schools, who face tightening budgets and inability to pay for basic supplies and other necessities, grapple with how to address growing lunch debts. A Pennsylvania district recently came under fire for threatening to put kids in foster care over unpaid debts, while a Rhode Island district was criticized for turning lunch debt over to a collections agency.