Preschool Teacher Arrested For Threatening To 'Shoot Up' Her School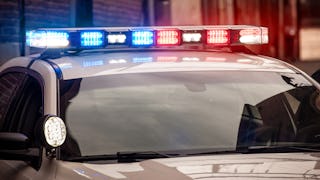 Image via avid_creative/Getty Images
A New Jersey teacher was arrested before she could follow through on her alleged threat to "shoot up" the school she worked in
It's January 24, and already, America has seen 19 mass shootings in 2019. But the next school shooting may have been prevented when police arrested Gina Schroeder, a preschool teacher who allegedly threatened to come to her job at the school and start shooting.
Details are still emerging about the case. But reports say Schroeder, a 38-year-old preschool teacher at the Goddard School in Elmwood Park, New Jersey, told her coworkers she wanted to come to work and shoot up the school.
"One day, I'm gonna come here and shoot it up," she allegedly told her colleagues, who thankfully called police to report what she said. A staff member also reported to police that Schroeder was a gun owner, and news reports say she owns at least three firearms. Police Chief Michael Foligno later confirmed that police received a report that she had made those comments, and that police had taken three guns from her home in Nutley, New Jersey. Foligno did tell reporters that Schroeder owned all three guns legally.
The comment was reportedly made Friday, and police chose to place the school on lockdown while they moved in to arrest Schroeder. Police searched the Goddard School and Schroeder's car, but no weapons were found on the school's grounds.
Schroeder has been charged with making terroristic threats and illegal possession of prescription drugs. As of Tuesday, she was still being held at the Bergen County Jail, and she had been removed from the Goddard School's faculty page on its website. As of Wednesday, local reporters weren't sure if she's retained an attorney.
Anonymous parents are now wondering if it's safe to keep their kids in the school.
"Sooner or later she'll get out and we don't know what she's going to do," one parent told local news site North Jersey.
"It's scary and shocking," another parent said. "I would've never suspected. We heard she was released and that's very concerning – we don't know who the anger was directed at – the boss, fellow employees, the children?"
There must be a lot of preschool parents who are happy to see that Gina Schroeder was arrested before anything terrible could happen. Granted, we're only a month into 2019, but there hasn't been a headline-making school shooting yet this year. That's a blessed relief after 2018, which was the worst year on record for gun violence in schools. Nonprofit group Sandy Hook Promise counted 94 incidents of gun violence in schools in 2018, which was a near 60 percent increase from the 59 incidents recorded in 2006, the previous record-holding year for kids getting gunned down at their desks.
And yet, have any laws or policy changes addressed gun violence in schools? Nope. Our lawmakers literally can't be bothered to stop taking their NRA money and start making policy changes that would protect kids. The next big school shooting could be right around the corner, and nobody's doing a thing to stop it.
Thankfully, this was a potential shooting that won't come to pass, thanks to Schroeder's vigilant coworkers and quick-acting law enforcement. But stopping one shooting isn't enough. We need to hold our lawmakers accountable for stopping all of them.