The Cast of Disney's New 'Lion King' Remake Is Un-Freaking-Believable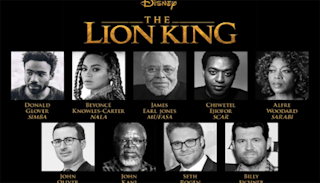 Image via Disney
Beyoncé is starring as Nala, alongside Donald Glover, James Earl Jones, John Oliver, and Seth Rogen
The star-studded cast for Disney's live-action remake of the Lion King was announced today and everyone is totally freaking out. Let's just say, the circle of life is giving us life. The kingdom has never looked so good.
Of course, everyone is talking about how Beyoncé is playing Nala, Simba's friend-turned-love interest. She confirmed the rumors on her Facebook page and Disney did as well on Twitter sending fans into a tailspin of excitement. It's not just the legendary lioness that has people losing their minds though – just look at this all-star cast.
Donald Glover from Atlanta and Solo: A Star Wars Story will play Simba. James Earl Jones is back (Omg, Omg, OMG), reprising his 1994 performance as king of the Pride Lands and Simba's dad, Mufasa. Chiwetel Ejiofor from Twelve Years a Slave will play heinous villian Scar. Witty man John Oliver will play Zazu and Seth Rogen will portray Pumbaa.
"It is a director's dream to assemble a talented team like this to bring this classic story to life," Director Jon Favreau, who also directed The Jungle Book remake said in a statement. According to the Hollywood Reporter, there will be jaw-dropping, real photo shots of African landscapes and animals (elephants, lions, etc.)
Disney also blessed us with this amazing "Meet the Cast" video on Twitter.
People on the internet can't get enough of the excitement.
https://twitter.com/jetpack/status/925858959499472896
Seriously, keep it together America. The Lion King remake comes out July 19, 2019.
https://www.instagram.com/p/Ba_ynQIHA5r/?taken-by=shahadiwrightjoseph
Here is the full cast list and description straight from Disney's website:
Lions rule the African savanna in The Lion King, which welcomes Donald Glover as future king Simba, Beyoncé Knowles-Carter as Simba's friend-turned-love interest Nala, and James Earl Jones as Simba's wise and loving father, Mufasa, reprising his iconic performance from Disney's 1994 animated classic. Chiwetel Ejiofor was called on to portray Simba's villainous uncle Scar, and Alfre Woodard portrays Simba's no-nonsense mother, Sarabi. JD McCrary fills the shoes of Young Simba, a confident cub who can't wait to be king, and Shahadi Wright Joseph brings tough cub Young Nala to life.
Every kingdom comes with a trustworthy advisor or two. John Kani was cast as the wise baboon Rafiki, and John Oliver was tapped as hornbill Zazu, Mufasa's loyal confidant. When Simba goes into exile, he relies on two newfound friends—Seth Rogen lends his comedic chops to naïve warthog Pumbaa, and Billy Eichner joins the cast as know-it-all meerkat Timon.
While most of the animals in the kingdom respect the king, the hyenas have other plans. Florence Kasumba portrays Shenzi, Eric André is Azizi, and Keegan-Michael Key plays Kamari.
It may be the most anticipated movie in a long time, and we're so here for it. Until then, Hakuna Matata!
This article was originally published on