Kids Found At New Mexico Compound Were Being Trained To Be School Shooters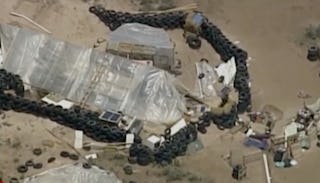 Image via CNN/Twitter
Police say 11 starving children rescued from a New Mexico compound were being trained to commit school shootings
The five suspects who have been charged with abuse after 11 starving kids were rescued from a New Mexico compound this week were training the kids to commit school shootings, police say. Prosecutors used that evidence in a bid to keep the suspects behind bars while they await trial.
If they were to "be released from custody, there is a substantial likelihood defendant may commit new crimes due to his planning and preparation for future school shootings," prosecutors said in court documents. A foster parent for one of the children said, "The defendant had trained the child in the use of an assault rifle in preparation for future school shootings." It's just the latest horrifying new detail in what's been a horrifying story since the beginning.
The 11 kids, ages 1 to 15, were rescued Monday after a raid on the Amalia, New Mexico compound where there was no plumbing or electricity and no food other than a few potatoes and some rice. Police also found loaded weapons and a makeshift shooting range.
The kids had managed to get a message outside the compound saying they were starving and needed food, and police believed a missing boy, Georgia's Abdul-Ghani Wahhaj, might be one of them. Wahhaj was not found, but the compound contained the remains of a boy who police believe may have been him.
All five defendants in the case, including Wahhaj's father, have pleaded not guilty after being arraigned Wednesday on 11 counts each for child abuse. Two of the defendants, Hujrah Wahhaj and Subhannah Wahhaj, are believed to be the mothers of the children who were rescued. Family members of the five defendants say they didn't know anything about their plans to train children to commit school shootings.
Imam Siraj Wahhaj, the father of the missing boy, said through a spokesperson that he had "no knowledge" of the training police say was taking place. Wahhaj was the first ever Muslim Imam to offer an opening prayer at the U.S. House of Representatives.