New Mexico Announces Plan To Make Public Universities Free For All Residents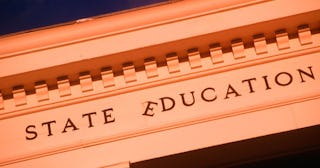 Joe Sohm/Visions of America/Universal Images Group via Getty Images
New Mexico governor wants to cover tuition payments at any public college or university in the state
As presidential candidates fight over whether or not to provide free college tuition for all, one state is pledging to do it on their own. New Mexico's governor Michelle Lujan Grisham announced a plan to make all public college and universities in the state free for its residents. The plan — which still needs the approval of the state legislature — will cover tuition expenses for any New Mexico resident at any of the state's 29 public colleges and universities.
Currently, students become eligible for loans and grants based on their parent's income, but there are no income requirements or limits to take advantage of New Mexico's proposed program, which is being called "The Opportunity Scholarship." The program will essentially step in and pay after students exhaust state and federal aid — or if they don't qualify for state aid to begin with.
One current problem with higher education in this country is that middle-class parents find that they make too much money to qualify for financial aid like Pell Grants, but they still can't afford college tuition. This new program is supposed to bridge that gap and make college accessible to the middle class again.
"This program is an absolute game-changer for New Mexico," Gov. Lujan Grisham said in a press release. "By covering the last dollar of tuition and fees, by making college significantly more accessible to New Mexicans of every income, of every background, of every age, we are putting students first. We are creating meaningful opportunity for all."
This would be the first state-run program of its kind. New York recently passed legislation to provide full scholarships to public universities for state residents, but that program came with a number of caveats and income requirements. The New Mexico program will cover tuition payments for anyone that needs it.
The only drawback is that the proposed program would only pay for tuition and not other expenses like housing, food, and textbooks. For many students, free tuition isn't all that helpful as they might have to juggle a full-time course load with a full-time job if they want to pay for food and rent. According to NPR, some critics also claim that wealthy families will take advantage of the program when they don't need help paying for college, but to play devil's advocate, if the program did list inquire requirements, then this program isn't all that different from FAFSA.
This is certainly a step in the right direction and suddenly New Mexico sounds like a pretty desirable spot to raise a family. We hope more states, or ahem, the federal government, follow in New Mexico's footsteps.