New Mexico Special Ed Teacher Dies Of COVID-19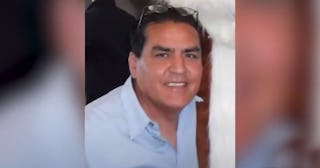 Bertha Lugo/ABC 7/KVIA/YouTube
His 91-year-old mother also tested positive for the novel coronavirus
Kind. Caring. Enthusiastic.
These are just a few ways friends, family, and faculty describe beloved New Mexico special education teacher Leo Lugo, who died at 57 on Sunday of COVID-19, ABC affiliate KVIA reports. Lugo is one of many teachers and school staff who returned to school only to contract the novel coronavirus and die — one of the more recent being Margie Kidd, a South Carolina first-grade teacher who died of COVID-19 on Sept. 28.
According to Gadsden Independent School District (GISD), Lugo developed symptoms last week while preparing his classroom during fall break. The Chaparral High School special education teacher later went to the hospital for treatment and was placed in a medically induced coma. Lugo was, devastatingly, among a half-dozen family members — including his 91-year-old mother — who tested positive for COVID-19.
"He was a very kind and caring individual who truly wanted the best for his students," Chapparal High Principal Victoria Lopez said of Lugo. In a GISD press release obtained by People, Lopez later described Lugo as a "very kind and caring individual who truly wanted the best for his students."
"He was a great guy," Leo's brother Mike Lugo said. "We didn't expect Leo to go like this. It took my brother, and it took him only a week to go."
"This is real," Leo's sister-in-law Bertha Lugo said of the virus. "We were cut short of his time here." Bertha continued to say that Leo got "worse and worse and worse" everyday "until the end." According to school officials, Leo was hospitalized for two weeks when he died.
As of yesterday, New Mexico has had 387 new cases (totaling 31,756 cases statewide), three additional deaths (totaling 899 deaths statewide), and 119 individuals currently hospitalized with COVID-19 (a 38 percent increase in the last week), the New Mexico Department of Health reported in its most recent round of stats. And just two days ago, New Mexico reported a large spike in cases: 426 new cases of COVID-19 and two more deaths related to the virus.
"Every COVID-19 death is a terrible tragedy," New Mexico Governor Michelle Lujan Grisham tweeted today. "I know all New Mexicans grieve for the 900 of our neighbors who have been lost to this horrible virus. Mr. Lugo's loved ones, and the staff of Chaparral High, are in my thoughts and prayers."
After Leo reported feeling sick, GISD said the campus was sanitized and contact-tracing efforts were put into place.
And more recently, GISD approved postponing re-entry of all students on Thursday and will stick with online-only teaching for the entire fall semester. According to KVIA, board members indicated that Leo's passing influenced their decision.
"His enthusiasm was infectious and was always ready to help his fellow special teachers or any teacher in his hallway," Lopez said in a statement of Leo. "He cared for his students as if they were his own."
Information about COVID-19 is rapidly changing, and Scary Mommy is committed to providing the most recent data in our coverage. With news being updated so frequently, some of the information in this story may have changed after publication. For this reason, we are encouraging readers to use online resources from local public health departments, the Centers for Disease Control, and the World Health Organization to remain as informed as possible.