New Parents Want Sleep More Than Anything -- Literally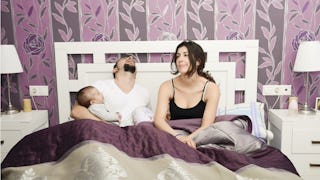 Image via Shutterstock
The thing new parents are most desperate for? Sleep
It's no secret that parents face serious sleep deprivation, but a new study is proving that moms and dads might be even worse off than we thought when it comes to lacking shut-eye.
They want sleep more than sex. Like, way more.
A joint study between BabyCenter and Dr. Harvey Karp, author of the ubiquitous parenting guide The Happiest Baby on the Block, suggests that new parents are more than twice as desperate for sleep as they are for sex with 62 percent claiming sleep deprivation is the number one challenge they face. Compare that to 26 percent saying lack of sex is the worst thing they've got going on, 48 percent answering that more time would be helpful, and 34 percent worrying about not having enough money.
Sex. Time. Money. All pretty big life issues, and still, sleep trumps all — by a pretty sizable percentage.
Maybe that's because new parents are averaging only 5.7 hours of sleep per night, according to the survey. So it's no real shocker that 78 percent of parents reported feeling tired or exhausted in the past week.
Well hello. We're parents. Exhausted is basically our default mode.
While parents who sleep less than five hours each night reported less joy and fulfillment in their roles as mom and dad, the love for their baby remains the same. Linda Murray, BabyCenter's global editor-in-chief said in a news release about the study, "Parents are sharing baby care more equally now than ever before. While it doesn't completely make up for a sleep shortage, that kind of partnership means parents are less angry with each other about being tired than they were five years ago."
Although having a solid parenting partner helps alleviate some of the burden, Dr. Karp urges new parents to take being super tired seriously. "Exhaustion is a serious problem," Karp says. "It leads to the same mental impairment as being drunk! In some families it can trigger marital stress, postpartum depression, breastfeeding failure, obesity, and even infant deaths from falling asleep with the baby in an unsafe location."
The survey results bear that out with 54 percent of respondents saying sleep deprivation is making them experience anxiety, frustration (44 percent), and distance from their spouse (47 percent).
The good news? It gets better. By the time their baby hits the four-month mark, 90 percent of parents have resumed having sex. 86 percent feel more love now that they have their child and joy and awe rank up there too. So basically, all that loss of sleep is worth it in the end.
But we still want a ton more sleep.
This article was originally published on