You're Gonna Swoon Over The New Pioneer Woman Collection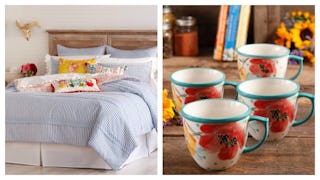 Images via Walmart
The new Pioneer Woman collection is here and waiting for you to get your hot little hands on something shiny and new for your home. We love the cozy, farmhouse feel of her new line.
Ticking stripes are a classic statement and go with everything. We love the clean lines of this duvet cover, especially when paired with some floral pillows.
An embroidered pillow without all the work? Yes, please. And that pom-pom edge is so whimsical and fun.
If you don't have a floral pitcher in your life, this is the one you need. It's great for serving tea or lemonade (in style) and looks so pretty when overflowing with a bouquet of your favorite flowers.
We love the color of these glasses, and they are perfect for all your favorite cocktails, or filled to the brim with ice cream.
Morning coffee or tea will look even better when served up in these special mugs. Not to mention guests will think you perused the flea markets for hours to find them.
A set of plates that go together but aren't perfectly matching is another way to show your style. Of course, you can eat off these beauties, but these are also a fun way to display appetizers for your next dinner party.
We love a good Instant Pot to make our lives easier, but if we are are going to invest in just one, we might as well get one draped in floral.
This extra-wide slot toaster is perfect for getting everyone's bagels, toast, or waffles ready in the morning.
A handheld mixer is so easy and versatile, and this one is super easy to store. And who doesn't love to lick a beater?
This electric floral kettle will heat up water or soup faster than in your microwave, and you can't beat the beautiful design.
Every home must have a slow-cooker, and we think this one is perfect. Even if you rarely use it, how chic does it look sitting on your counter?
You don't need one tiny crock-pot in your life, you need two. These babies will help keep your whole family happy — one for making chicken soup with onions and one for making it without.
What are you waiting for? The new Pioneer Woman line is here and up for grabs. Give your home a mini-facelift with a few of her accessories for your bedroom, living room, or kitchen.
We are a participant in the Walmart.com Affiliate Program and may earn fees by linking to Walmart.com and affiliated sites.
This article was originally published on