Every Employee At This New Starbucks Store Knows American Sign Language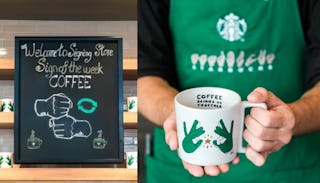 Image via Starbucks
A new Starbucks store in Washington, D.C. caters to customers who use ASL to communicate
In most ways, the newly opened Starbucks store at 6th & H Street near Gallaudet University in Washington, D.C. looks like any other. It's only upon closer inspection that customers will realize that this particular location has a pretty amazing aim — to allow those who need to use American Sign Language (ASL) to communicate to place their order with zero concern of the employees understanding them.
Because every single person working there knows ASL.
RELATED: Start Communicating With Your Baby Using These Easy Baby Sign Language Tips
The location is meaningful, as Gallaudet University, according to a Starbucks press release, is the world's first liberal arts university for the deaf and hard of hearing.
"The National Association of the Deaf applauds Starbucks for opening a Signing Store that employs Deaf and hard of hearing people," said Howard A. Rosenblum, CEO of the National Association of the Deaf. "Starbucks has taken an innovative approach to incorporating Deaf Culture that will increase employment opportunities as well as accessibility for Deaf and hard of hearing people, while at the same time educating and enlightening society."
There are a number of special touches that customers will notice before even walking in — like the umbrellas with "Starbucks" printed on them in both English and ASL finger spelling.
There's a wall-hanging of the ASL alphabet.
And a stunning mural created by Yiqiao Wang, a deaf artist and adjunct professor at Gallaudet University. The design is full of symbolism. "In the center of the piece, you can see two very strong hands, arms raised up, rising from the bottom of the artwork," Wang said. "Deaf people can see that. It means community in ASL, and bringing various backgrounds, languages and people all together."
Starbucks says, "The new Signing Store incorporates aspects of DeafSpace, including an open environment for communication and low-glare surfaces."
"All store partners are proficient in ASL, whether they are hearing, hard of hearing or Deaf. However, Deaf partners at the Signing Store wear special green aprons – created by a Deaf supplier – embroidered with the ASL finger-spelling of Starbucks," the coffee giant says.
There's also a mug exclusive to the store. It's designed by Deaf artist Jena Floyd, who grew up in Kentucky. "I'm still pinching myself that my work on the mug will be seen by the public — especially with the exposure from Starbucks," Floyd said. "Also, I'm so excited to see the first Signing Store here in America — especially with the design inside the store that's Deaf-friendly, staff that use ASL, and artwork by Deaf artists. This is something tangible we as Deaf people can show what we're capable of as contributing citizens of our society."
The store also offers different ways of ordering to accommodate customers new to ASL.
Basically, they've thought of everything.
"Starbucks is to be commended for their affirmative approach to employing people with disabilities, in this case persons who are Deaf and hard of hearing," said Former U.S. Senator Tom Harkin from Iowa who was instrumental in introducing the Americans with Disabilities Act. "I know Starbucks will find Deaf and hard of hearing persons to be their most loyal, competent and reliable employees. Customers will enjoy interacting with these partners and perhaps learning a few good signs with their coffee!"
This article was originally published on