New NY Law Recognizes That Moms Aren't The Only Ones Changing Diapers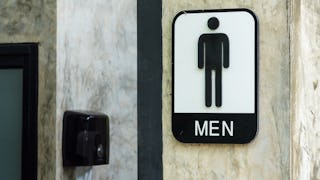 Image via Chayapon Bootboonneam/EyeEm/Getty Images
The law will require new and renovated buildings in NY to install changing tables in both men's and women's restrooms
Happy New Year! Let's celebrate by sending dads into New York bathrooms to change all the diapers, because a new law about to go into effect will require that changing tables be in all new and renovated buildings in ALL bathrooms — that is, men's rooms as well as women's.
The conversation about the need for changing tables in men's restrooms has been simmering for quite awhile with some dads going viral showing what they deal with when it's time to change their little ones — and mom isn't around. Florida dad Donte Palmer wrote, alongside a photo of himself literally squatting against a bathroom wall to change his baby, "What's the deal with not having changing tables in men's bathroom as if we don't exist!! #FLM #fatherslivesmatter clearly we do this often because look how comfortable my son is. It's routine to him!!!!"
And that's why, while it's way too long overdue, we're thrilled to hear that NY is moving forward with a law that will ensure no dad is forced to squat or (shudder) sit on the bathroom floor to change their baby's diaper. New York Governor Andrew Cuomo first announced the law would go into place back in April 2018, and now, it's happening.
"New York proudly leads the nation in fighting for the rights of working parents, and by ensuring access to these amenities, we will help ensure all New Yorkers can give their children the care they need at this critical stage of their lives," Governor Cuomo said. "This legislation supports our efforts to make New York the nation's model for working parents, and helps make it a stronger, fairer and more equal state for all."
It's not just hyperbole to say that more and more dads are finding themselves in need of a public restroom with a changing table — demographics from Pew Research bear it out. 17 percent of stay-at-home parents in 2016 were dads — up from just seven percent in 1989. Dads have been doing the solo parenting thing for literal decades, and it's about damn time society caught up and made bathrooms with changing spaces available.
And of course, this isn't just for the convenience of stay-at-home dads. When I was out to dinner with my family during our kids' diaper days, I can't even count how many times my husband scooped up a kid and headed to the restroom to take care of business only to come back, eyes rolled firmly into the back of his head, to tell me there was no table in the men's room. Off I would go, abandoning my food, as per usual, to change yet another diaper. It's nonsense, and I'm so glad to know progress is being made.
Let's hope NY is the trailblazer and first in a long line of states to make sure that dads are able to change diapers too.