NYC Mayor Declares Public Health Emergency Amid Measles Outbreak
by Valerie Williams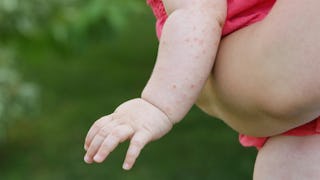 Image via iStock/Getty Images
Bill de Blasio has declared a public health emergency in the city due to a measles outbreak
In the midst of a serious measles outbreak in ultra-Orthodox Jewish communities in Brooklyn, the mayor of New York City has declared a public health emergency. There are 300 cases of the illness reported as of today.
The declaration will require unvaccinated individuals living in Williamsburg, Brooklyn to get vaccinated against the disease or face fines of $1,000 or other violations. Mayor Bill de Blasio shared the announcement on Instagram:
https://www.instagram.com/p/BwCx5zTFncq/
"We are declaring a public health emergency in Williamsburg due to the 300 cases of measles reported in our city — primarily concentrated in Brooklyn.
There's no room for misinformation when it comes to protecting our children. Vaccines are safe and effective. They work," the declaration reads.
"Vaccines don't just protect your child — they protect everyone else around them including infants and people living with long-term illness. Protect your neighbors by making sure your family is vaccinated immediately," the notice pleads. "As a father, I know how much parents want their children to be safe and healthy. Don't take this risk. If your child isn't vaccinated against measles, get them vaccinated today. @NYCHealthy is ready to provide the vaccination free of charge."
The notice named the zip codes where any unvaccinated children will need to remain home from school and daycare unless they get vaccinated. "If you choose to not vaccinate, you will be fined. We have to protect our kids and our families," de Blasio says.
According to The New York Times, efforts to reach communities with low vaccination rates have been unsuccessful, so the message isn't reaching the audience it needs to. That's why more drastic measures became necessary. "This is the epicenter of a measles outbreak that is very, very troubling and must be dealt with immediately," de Blasio said at a news conference. "The measles vaccine works. It is safe, it is effective, it is time-tested."
21 of the reported cases have led to hospitalization, including five admissions to intensive care. A previous attempt at quelling the outbreak in December when unvaccinated kids were banned from attending schools in some sections of Brooklyn was not successful. "There has been some real progress in addressing the issue, but it's just not working fast enough and it was time to take a more muscular approach," de Blasio said.
At this point, it's very hard to understand why a parent wouldn't want to do all they possibly could to protect their child from a potentially deadly illness, but it's heartening to see the city step in where parents are refusing to. Hopefully this somewhat drastic action will help stop the outbreak before it gets even worse.