New York Becomes The First State To Offer Free Tuition At 4-Year Public Colleges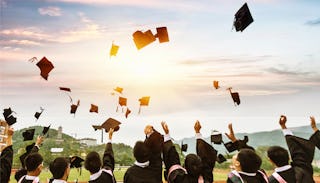 Image via Shutterstock
"With this program, every child will have the opportunity that education provides"
For New Yorkers whose families make less than $125,000 a year, the state is preparing to pick up the tab for a college education.
New York's legislature just agreed on a $163 billion state budget that includes funding for the Excelsior Scholarship, a program that would cover tuition costs for any New York resident seeking a degree at one of the state's community colleges or four-year universities, provided their family meets the financial requirement of making less than $100,000 annually in 2017, $110,000 in 2018 and $125,000 in 2019. According to the Washington Post, nearly 1 million families are projected to qualify for free tuition each year.
Tennessee, Oregon and Minnesota already offer free tuition at community colleges, and more than 80 initiatives are in the works nationwide to offer the same in other states and cities. But New York will be the first state to offer to cover its residents' tuition at four-year colleges.
The program does come with some strings attached. In addition to the income requirement, students will still have to apply for federal Pell grants and scholarships, and the state will only cover the costs that are left over. Students must be enrolled full-time, taking at least 30 credits per year. And students who go to community colleges will be required to stay in New York for at least two years after graduating, while students who attend four-year universities will be required to stay for four years. The idea is that students will earn their degrees and then their contributions to New York's economy will help offset the cost the state incurs by paying their tuition. The state is projecting that it will spend $163 million on the first year of the Excelsior Scholarship.
New York Governor Andrew Cuomo proposed the idea in January, and this week he praised the legislature for making it a reality.
"Today, college is what high school was — it should always be an option even if you can't afford it," Cuomo said in a statement on Saturday. "With this program, every child will have the opportunity that education provides."
The rising cost of college tuition got a lot of attention during the 2016 election, and both Sen. Bernie Sanders and Hillary Clinton promised voters that, if elected, they would come up with a plan to make college more affordable. Sanders introduced legislation in the U.S. Senate last week to make public colleges and universities free for families earning less than $125,000 nationwide. The plan is still considered a radical one in the U.S., but the idea is picking up steam — Tennessee's model, which has been in effect since 2015 and offers two year of free tuition at any community college or technical school in the state, has been lauded by politicians on both sides of the aisle as an example the rest of the country can follow.