People In NY Flock To Public Parks Despite Social Distancing Orders
by Julie Scagell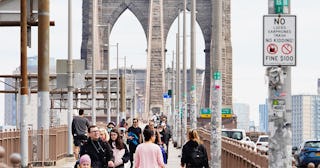 NurPhoto/Getty
New Yorkers continue to flood parks amid coronavirus pandemic
As of today, New York remains at the center of the novel coronavirus (COVID-19) outbreak in the United States, with more than 130,000 cases and 5,400 deaths as of this morning. While the state has been on a strict "stay at home" order from governor Andrew Cuomo since March 22, many are still not adhering to the social distancing guidelines, filling its parks on a daily basis.
Dozens of people were photographed walking through Central Park, jammed together and clearly not obeying the "six feet apart" rule health officials say is critical to stopping the spread of coronavirus. While some can be seen wearing face masks or protective gear, many were not. Recently, the Centers for Disease Control, as well as New York City Mayor Bill de Blasio advised that all Americans wear face masks while out in public.
While Central Park and other public parks have remained open for residents of the city to get fresh air and exercise, it's clear people aren't taking the mandates put in place to keep them safe seriously. In mid-March, Cuomo expressed his frustration with the situation. "It's insensitive, it's arrogant, it's self-destructive, it's disrespectful to other people, and it has to stop, and it has to stop now," he said of people flooding the park. "This is not a joke, and I am not kidding."
Similar pictures taken along Hudson River Park show crowds of people lingering dangerously close to each other.
Cuomo also called the crowds "wholly inappropriate" amid the statewide stay-at-home order. "We talk about social distancing," he said. "I was in these parks, and you would not know that anything was going on." Now, weeks later, it seems more will need to be done to prevent people from overcrowding public parks. These images are from just two days ago.
As people deemed "essential workers" put their lives at risk to help save others from the virus, seeing folks out and about living their lives with little regard for who they could be infecting is horrifying. As of this morning, a 12th police officer in New York has died from the virus and dozens of medical personnel have become sick and have to self-quarantine as a result. Until everyone starts taking this seriously and stays home (unless they have to go out for groceries or essential items), all states will see more death and illness that could have been avoided.
New York State reported 731 more deaths Monday, its largest one-day increase. "Behind every one of those numbers is an individual, is a family, is a mother, is a father, is a sister, is a brother," Cuomo said at his daily briefing in Albany this morning. "So a lot of pain again today for many New Yorkers."
Information about COVID-19 is rapidly changing, and Scary Mommy is committed to providing the most recent data in our coverage. With news being updated so frequently, some of the information in this story may have changed after publication. For this reason, we are encouraging readers to use online resources from local public health departments, the Centers for Disease Control, and the World Health Organization to remain as informed as possible.
This article was originally published on