NY Times Will Air Powerful #MeToo Ad During The Golden Globes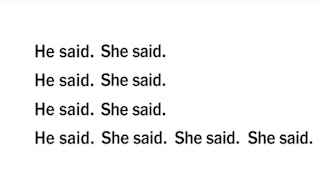 Image via YouTube
The simple but powerful text-only ad will air during the Golden Globes
The New York Times has created an ad highlighting the importance of the #MeToo campaign, and it's set to air during the Golden Globes telecast tomorrow night. There really isn't a more appropriate time to discuss sexual harassment than during one of the biggest nights in Hollywood, especially after everything that's unfolded during the past few months.
There also isn't a better outlet to put forth the ad, considering the Times is the newspaper that broke the big Harvey Weinstein exposé last fall. Weinstein has been accused of dozens of instances of sexual misconduct — from harassment to rape — of multiple actresses and women in the industry. Since the allegations became public, we've been in the midst of a kind of watershed moment for sexual misconduct victims everywhere, thanks in large part to the #MeToo campaign.
The ad, seen here on YouTube, consists of just simple text. But that's all it needs to drive the bigger picture home.
"He said. She said." Seems like it could be the motto of all women throughout history, huh? The flood of "she said" at the end sends a powerful message: we need to believe women.
"We thought that using language that has been used to silence women in the past and turning it on its head was a simple way to show the clear distinction between the way the world was merely a year ago and the way it is now,"Julie Matheny, associate creative director of Droga5, the ad agency behind the campaign, told Ad Age.
Actresses are expected to show up wearing black to the awards show tomorrow night, as a strong visual protest workplace harassment in support of the #MeToo movement. I'd be willing to bet the red carpet dialogue is probably going to be radically different from the "mani-cam" and inane questions of years past.
It's crazy to think that no matter how many advances toward achieving equality women have made across all industries, merely a year ago we weren't talking about sexual harassment and abuse the way we are now. And not just at work, but all the time. Anywhere we go — walking down the sidewalk, going to a party or a bar, simply deigning to exist online. The #MeToo movement has given a platform and a voice to women everywhere — we won't be silenced anymore.
The end of the Times ad drives that point home: "The truth has power. The truth will not be threatened. The truth has a voice."