New York Transit Museum Fosters Passion For Trains In Kids With Autism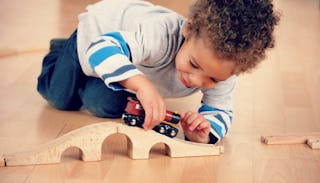 Lostinbids / iStock
It's not uncommon for kids with autism to have a special interest in trains and transportation. To foster this passion, the New York Transit Museum has created a program just for children on the autism spectrum.
The museum's Subway Sleuths program is an after-school program and summer camp for students second through fifth grade. As part of its programming, Subway Sleuths uses participants' special interest areas to help develop peer-to-peer interactions and social skills.
"Because trains are a popular special-interest area of individuals with autism, the New York Transit Museum is the perfect setting for this type of developmental work," Elyse Newman, education manager for the New York Transit Museum, told The Mighty. "A passion for transportation and trains is a requirement for the program, for that shared interest serves as the glue that brings the students together."
Creating a program for children on the spectrum was an obvious choice for the New York Transit Museum. "Nearly seven years ago, the Transit Museum recognized that children with autism and a special interest in trains were coming to the museum frequently," Newman said. "While the museum clearly was a place of excitement and comfort for these children, the museum didn't have programs to directly engage them in ways that met their learning needs. Given the lack of after-school opportunities for children living with autism, it seemed obvious that the museum should develop a program to give participants a positive, fun, and supportive environment when they need it most — during out-of-school time."
According to Newman, each session starts with a visual schedule, allowing participants to manage expectations and group collaboration. After discussing the schedule, each child gets to participate in two activities. Activities focus on partner work and include designing a giant subway map, taking and reviewing pictures, and games involving nonverbal communication like using hand signals and facial expressions to assemble toy train tracks.
The Subway Sleuths program is deliberately small, with each semester enrolling a total of 18 students per 10- to 12-week program. Those 18 students are then divided into three groups, each led by a special education teacher, New York Transit Museum educator, and speech-language pathologist. Each semester costs from $350 to $450, depending on the length of the course. The program also offers scholarships for those who can't afford the program.
You can learn more about New York Transit Museum's Subway Sleuths program via its website.