New Zealand Government Will Cover Funeral Expenses For Shooting Victims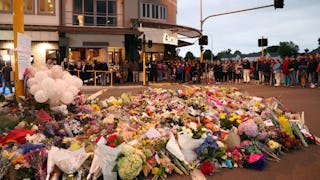 Image via MICHAEL BRADLEY/AFP/Getty Images
The New Zealand Prime Minister is committed to changing gun laws and helping the families of victims
New Zealand Prime Minister Jacinda Ardern has emerged as a source of global inspiration in the aftermath of the tragic mass shooting at two mosques in Christchurch. She recently announced that the government will cover funeral costs up to $10,000 for family members of the victims of the shooting.
"We are very focused in ensuring you have the support you need in the days and the weeks and the months that follow," Ardern said. "Many of those who have lost their lives will be the ones who will be bringing the income into their households. Many will have dependents and spouses. I want to give you the assurance that through our system in New Zealand, through ACC, there is provision to provide for those families."
Ardern has been prime minister since 2017, and this is the first major crisis she's withstood since being elected the country's youngest prime minister in its history (she is now 37 years old). Not even two full days after the terrorist attack in her country, she and the attorney general, David Parker, publicly promised that New Zealand's gun laws would change.
"The offender was in possession of a gun license," Ardern said, meaning the guns were obtained legally. "While work is being done as to the chain of events that lead to both the holding of this gun license and the possession of these weapons, I can tell you one thing right now; our gun laws will change."
Parker said the government could seek to ban semi-automatic weapons. "There is a dimming of enlightenment in many parts of the world," he said to the crowd. "How can it be right for this atrocity to be filmed by the murderer using a go-pro and live-streamed across the world by social media companies? How can that be right? Who should be held accountable for that?"
Ardern says the government will continue to support families directly impacted by the loss of their loved ones in the mass shooting beyond contributing to the funeral expenses. Earlier on Sunday, Ardern laid flowers alongside local mourners and comforted worshippers at local mosques.
While several people are still wounded in the hospital, 49 people were killed in the shootings at two mosques in central Christchurch on Friday. Authorities and politicians have not hesitated to call it a terrorist attack, as it was a white nationalist extremist who posted a racist manifesto online and streamed live video of the attacks on Facebook.
While the New Zealand government's compensation system will help families of those left without income, in the meantime, mosques all over the country will get extra security. "Our gun laws will change, now is the time," Ardern said during a press conference this weekend. "People will be seeking change, and I am committed to that."