New Zealanders Wear Headscarves To Show Solidarity After Christchurch Attacks
by Thea Glassman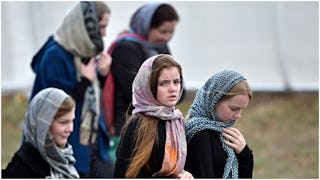 Image via Anthony Wallace//Getty
New Zealanders are showing their support for the Muslim community following the Christchurch attacks
Last week, a gunman entered two mosques in Christchurch, New Zealand and murdered fifty people. Now, New Zealanders are showing their support and solidarity for the Muslim community by donning headscarves during the country's mass funeral for the victims.
The "Headscarf for Harmony" idea was started by Thaya Ashman, a doctor in Auckland. She told ABC News that she was inspired to start the movement after seeing a Muslim woman tell a news station that she was scared to wear her hijab outside after the terror attack.
"This is a headscarf which both women and men throughout the world, have been wearing since time immemorial," Ashman said. "It's a simple invitation to the whole of New Zealand to show our support, but also to recognize our grief as New Zealanders."
People heard her message loud and clear.
The hashtag #HeadScarfForHarmony sprung up on Twitter and women shared pictures of themselves wearing scarves in support of Muslims.
New Zealand anchor Samantha Hayes took to Instagram to share a photo of herself in a headscarf. Alongside the snapshot, she explained that a Muslim woman told her news station that she was harassed on the train following the mosque attacks. The headscarf movement meant to world to her.
"Last night on our news she said, 'to see so many people together in one area and not just Muslim women but women who choose to wear it just to support us, that's something I can't explain into words just how special it would feel,'" Hayes wrote. "I'm wearing a headscarf today for her, and for the families and friends of those killed in Christchurch a week ago."
New Zealand Prime Minister Jacinda Ardern was also pictured wearing a headscarf, after attending islamic prayers on Friday.
A very similar movement called "Scarves in Solidarity" took place on Friday. It's organizer was Anna Thomas and she had the same very important, very thoughtful mission.
"I just thought, why don't we all wear a scarf on Friday, a week on from this tragedy, and walk alongside our Muslim sisters as a mark of respect," she told ABC News. "Women, especially those who wear the hijab, are fairly regularly fearful when they go out in the streets, and what a better way to show support and walk alongside them than to wear one."