New Zealand PM Jacinda Ardern Wins Second Term In Historic, Landslide Victory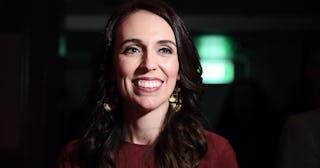 Hannah Peters/Getty Images
The historic win follows Ardern handling the country's COVID-19 outbreak like a boss
Since the start of this global pandemic, we've watched countries struggle to handle the novel coronavirus. Many stumbled (including us), while others immediately leapt into action and crushed COVID-19 in seemingly record time. The latter notoriously included New Zealand and its leader, Jacinda Ardern. So, it comes as no surprise that Ardern just won her second term as the country's Prime Minister — in a landslide victory, no less.
A huge congratulations goes out to Ardern's center-left Labour Party, which won 49 percent of the vote (or 64 of 120 available parliamentary seats), what The Hill calls "its most significant victory since the current parliamentary system was introduced in 1996." Axios also reports that nearly 2 million people (about 57 percent of all registered voters in New Zealand) voted early, which is the most on record.
"Tonight's results have been strong, and it is clear that Labour will lead the government for the next three years," Ardern said in her victory speech on Saturday.
She added: "Tonight, New Zealand has shown the Labour Party its greatest support in at least 50 years. I can promise you, we will be a party that governs for every New Zealander."
In addition to handling the coronavirus pandemic like a boss — Ardern shut down the country when it had just over 100 cases, and since, they've had just under 2,000 total confirmed cases and 25 deaths, and they haven't reported any active cases since Oct. 7 — the New Zealand Prime Minister was also praised for how she healed the nation after a massacre of Muslims by a white supremacist last year.
"We will govern as we campaigned: positively with optimism about our future," Ardern said. "Now more than ever is the time to keep going, to keep working, to grab hold of the opportunities that lay in front of us. Let's keep moving."
Ardern — who, in 2017, became the world's youngest female head of government at the age of 37 — said in her speech that, in her second term, she will "build back better from the COVID crisis."
"Better, stronger, with an answer to the many challenges New Zealand already faced," she said. "This is our opportunity to build an economy that works for everyone, to keep creating decent jobs, to upscale and train our people, to protect our environment and address our climate challenges. To take on poverty and inequality. After this result, we have the mandate to accelerate our response and our economy, and tomorrow we start."
"Elections aren't always great at bringing people together," Ardern also said, "but they also don't need to tear one another apart. So again, I say thank you. This has not been an ordinary election and this has not been an ordinary time."