Woman Shares Heartbreaking Details Of Trying To Save New Zealand Victim's Life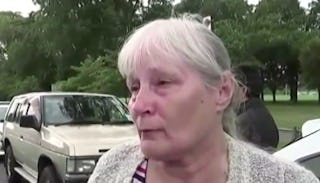 Image via Twitter/BBC
She thought the sound she heard was initially 'firecrackers' — but soon got to work trying to save a man's life
A 66-year-old woman who witnessed one of the mass shootings in Christchurch, New Zealand on Friday is sharing a heartbreaking account of the chaos and confusion of the moment. She describes trying to help a severely wounded man who was lying in the street.
"I heard and saw what I thought were firecrackers and I saw young fellows running down the street. And then all of a sudden it got quite violent and I thought, 'No, that's not firecrackers,'" the woman, named Jill Keats, tells the BBC.
"They started falling," she continued, describing the victims of the attack. "One fell just to the left of my car and one fell to the right. And for a few minutes, I stopped the car in shock."
The horrific mass shooting has so far claimed the lives of 49 people and injured dozens more in what's being condemned as a terrorist attack on Friday afternoon in New Zealand. The shootings, which interrupted a day of prayer at both the Al Noor Mosque and the Linwood Mosque, was partially broadcast in a live stream on Facebook.
Additionally, the shooter published a "white supremacist manifesto" online, where he openly discusses his right-wing extremism. Both places of worship are located in a small immigrant community.
Keats says she was driving down a nearby street when she heard the gunfire at the Al Noor Mosque. She stopped her car and tells the BBC she saw an injured man who appeared to be shot in the back, lying on the street. She and another witness pulled the man behind her car in an attempt to use the vehicle as a shield. According to Keats, a third witness nearby was able to pick up three victims, put them in his car, and drive them to the nearest hospital.
"The worst thing was we could hear the ambulances but they couldn't get to us," she says. A second man who was shot, but landed farther away, did not survive.
"For a few minutes I stopped the car in shock, and I leaned across the seats to try and avoid getting shot. I opened up my driver's door and got out and a guy comes up and says 'Are you alright?' and I say 'Yeah I haven't been shot'.
As far as she knows, the man she tried to save is among the wounded victims in the hospital. When the reporter calls Keats a "hero" for helping the first male victim, she quickly shook her head. "No I'm not," she says. "You just do what you do at the time. I wish I could have done more."
Currently, one white man in his twenties has been charged with murder in relation to the shootings, and three others are in custody. New Zealand Prime Minister Jacinda Ardern said in a Friday press conference that it "was clear that this is one of New Zealand's darkest days," and issued "the strongest possible condemnation of the ideology of the people who did this."
Keats says the man she was able to assist and shield with her car was trying to call his wife while gunfire still exploded all around them. "I'm 66, I never thought in my life I'd live to see something like this," she said. "Not in New Zealand."
This article was originally published on