Pediatrician Who Discovered Flint Water Crisis Says Newark Situation Is Even Worse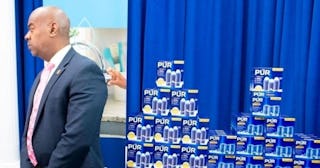 City of Newark Press Office
The water in Newark, New Jersey has some of the highest lead levels in the country but the city hasn't declared a state of emergency
In Newark, New Jersey, records indicate that lead levels in the water have been steadily increasing for years and have now reached some of the highest levels in the country. What's worse is that while many residents have been given water filters, aimed at protecting them from the lead's harmful effects, those filters haven't been working properly.
Mona Hanna-Attisha is the pediatrician credited with discovering the water crisis in Flint, Michigan in 2015. She says, the situation in Newark is even more serious and is working hard to sound the alarm. "It's a crisis," said Hanna-Attisha. "This is an entire population that's being exposed."
The impacts of lead exposure can be serious. Children under six are the most at risk for developing some of the most life-altering illnesses. Particularly, permanent brain damage, which shows up in a number of ways, like learning disabilities or violent behavior. Adults may develop reproductive issues, nausea, along with a host of other health problems. At very high levels, lead poisoning can be fatal.
While more than 100,000 residents have been exposed to contaminated water, Hanna-Attisha says that not everyone knows whats going on just yet because the city has not yet declared a state of emergency. The crisis is scary enough on its own, but the fact that not all of the residents are aware and that people might still be consuming water that they don't know could be hurting them is utterly terrifying.
Many took to social media to point out that in terms of the city's population, it's similar to Flint.
Others called for the president to step in and do something.
And it's clear the water is far from safe. While records show the lead levels were high in previous years, readings from January to June 2019 showed lead levels of 52 parts per billion in Newark. In non-expert speak, that's more than three times what the EPA deems to be safe.
Since the latest recorded samples, the EPA had been calling for increased action, though, which means bottled water needs to be distributed. "EPA believes that, out of an abundance of caution, residents who have lead service lines should be advised to use bottled water for drinking and cooking until the results of the filter testing are fully understood, additional sampling is performed, and a reliable solution can be implemented," the agency said in a statement on Saturday.
They also wrote a letter to the city's commissioner and Mayor, letting them know that the city has a responsibility to provide that water to residents. "We believe it is the responsibility of the city of Newark to provide such bottled water as soon as possible," the agency wrote in its Friday letter.
Handing out water is a good, necessary step. But long-term, the city will need to take major action, like replacing pipes old pipes and making sure everyone exposed is properly treated. In a city that's already struggling, it will undoubtedly be a huge job but it absolutely must be done to ensure the residents don't see devastating consequences.
It's clear the situation is bad. Really bad. I mean, when we hear "Flint" we automatically think about the water crisis. Imagining that the situation could be even worse in Newark definitely sounds like an emergency. Hopefully, the city will step up and treat it as one before more children (and adults) become exposed.