Baby's Loses Battle With Meningitis After Being Kissed By Someone With A Cold Sore
by Megan Zander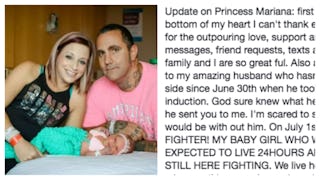 A kiss from someone with herpes can be very dangerous for a baby
This should have been the best month ever for Nicole and Shane Sifrit. On July 1st, they welcomed their daughter Mariana to the world. Six days later, on July 7th, they were married. But their wedding celebration was cut short when Mariana was refused to eat or wake up.
The newlyweds rushed to Blank Children's Hospital in Des Moines, Iowa. There they learned their newborn had contracted meningitis caused by HSV-1 — the herpes virus. The doctors explained Mariana most likely contracted the virus from after being kissed with someone with a cold sore. "They touch her, and then she touches her mouth with her hand," Nicole Sifrit explained to WHO TV. Both mom and dad tested negative for the virus, meaning it was a well-meaning kiss from a friend or family member that exposed the baby the virus.
"It immediately went downhill from there," Shane Sifrit told WHO TV. "Within hours she had quit breathing and all of her organs started to fail." Nicole posted daily updates on her daughter's condition to Facebook.
"Today we were told that if Mariana's liver can't repair itself she won't be able to survive. At this time we don't know that outcome the only way to determine this is watch the labs watch the numbers and pray," wrote Nicole. The loving parents stayed by Mariana's side as she suffered liver damage, heart damage, seizures, and loss of kidney function as a result of the meningitis.
Through it all, they never gave up hope. "I love you BABY GIRL and your daddy and I will be right here to fight your battle with you." she said. Friends and family set up a Go Fund Me to help the couple with the unexpected medical expenses.
Nicole knew that her daughter's health was touch and go. "We live hour by hour min by min everything can change in an instant," she said. Although she was a fighter, the virus claimed Marina's life on July 18, when she was only 18 days old.
HSV-1, aka the cold sore version of herpes, is pretty common. The WHO estimates about 67% of the world's population has the HSV-1 virus. The percentage of people in the Americans with HSV-1 is said to be between 40-50%. Most people with the virus are aware they have it thanks to the occasional cold sore. When someone with a cold sore kisses a baby, they run the risk of infecting the baby with herpes too.
Some people with HSV-1 are asymptomatic and don't know they are carriers. It's very unlikely for a person without symptoms to pass on the infection, though it has been known to happen.
While an infant infected with HSV-1 won't always develop meningitis as Mariana did, it can still make them very ill.
As for the Sifrits, they're hoping their daughter's short time on earth can be meaningful in helping to prevent other babies from contracting this virus. "Keep your babies isolated. Don't let just anyone come visit them," Nicole said. "Make sure they are constantly washing their hands. Don't let people kiss your baby and make sure they ask before they pick up your baby."
This article was originally published on