Newborn Puppy Photoshoots Need To Be A Regular Thing, Please
by Thea Glassman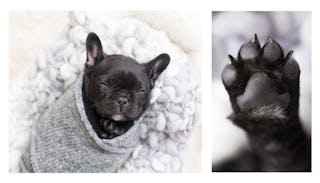 Image via Brenden Boggs
This newborn photoshoot with a baby french bulldog will be chicken soup for your soul
Need a little pick-me-up? I'd like to turn your attention immediately to an off-the-charts adorable photoshoot of a baby french bulldog. Photographer Brenden Boggs shot the little pup as if she were a newborn baby and you're about to swoon real hard.
Boggs is a newborn baby photographer but decided to make an exception for her friend Rachel's very cute, very tiny french bulldog named Olive. "Rachel got Olive as a birthday present form her fiancé (he's a winner right?!?!?), and everyone who has seen her has instantly fallen in love," Boggs wrote in a blog post. "I texted her and asked if she wanted a newborn puppy shoot, and she thought it was an amazing idea and was totally down."
The photoshoot involved a pink flower crown, plenty of cozy blankets, and a teeny-tiny basket. Oh and – according to Boggs – plenty of puppy snuggles.
We cannot remain at all calm looking at these photos. She's simply too perfect.
Boggs told Scary Mommy that Olive had lots of energy to go around and the photos showcased the puppy's personality. If you're having a sudden hankering to create your own newborn doggo photoshoot (because, fair enough), there are a few good tricks to follow.
"I recommend bringing 1 or 2 of puppies favorite toys and of course some treats. I had a rubber chicken squeaker that worked great to get her attention, and of course having some puppy pee pads on hand is a must!" Boggs explained. "After that to get out some extra energy, Rachel had Olive run up and down the hallway. It worked perfect and she calmed down and eventually fell asleep."
That squished up little face is just slaying us. I mean, hello.
In case you need an even bigger serving of Olive cuteness (it's been a very long week already), then head straight to the teeny bulldog's Instagram page. You'll be treated to a picture of Olive playing with a ball:
https://www.instagram.com/p/BvzAb5wAF26/
Olive hanging out with Stich:
https://www.instagram.com/p/Bvb6FS3AyMS/
Olive in a baby sling (be still my heart):
https://www.instagram.com/p/BvkWqvjg5Ex/
And Olive being a super helpful pup by carrying a grocery bag from one end of the room to the other:
https://www.instagram.com/p/BwANvDpA6OS/
The moral of this story is that we all need more newborn puppy photoshoots. STAT.