Hospital Dresses Infants In Cardigans To Honor Mister Rogers
by Valerie Williams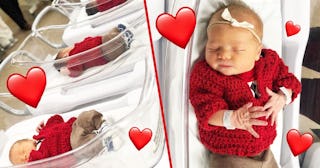 UPMC/Instagram
Pittsburgh hospital dresses infants as Mister Rogers to celebrate World Kindness Day
Newborns at UPMC Magee-Womens Hospital in Pittsburgh celebrated the memory of Fred Rogers this week by donning attire similar to what he wore on his iconic TV series. The infants were all dolled up in tiny Mister Rogers-style outfits in honor of World Kindness Day and the local legend's legacy of doing good.
"It's a beautiful day in the neighborhood today at UPMC Magee-Womens Hospital! We're welcoming Pittsburgh's newest neighbors in style for #CardiganDay!" the hospital writes in an Instagram post full of the cutest photos we've possibly ever seen.
A whole row of itty bitty ones in comfy pants and cardigans? Stop it right now. This is illegal levels of precious and I'm not getting anything else done today because I plan to look at these photos all day.
According to ABC News, the teeny sweaters were all crocheted by nurse Caitlin Pechin, who works at the hospital. "It's more just something I do for fun," she says. "I really enjoy making things for all the babies because they look so cute in them."
They sure do. Peep those little necktie t-shirts underneath. They nailed every detail.
Arguably, the very best part of all was the reaction of Rogers' wife Joanne who came by to visit the babies. To say her face lit up is the understatement of the century.
Look at how excited she is. Her face in these photos would melt the coldest of hearts.
I mean. Can she just have her own show now? I would watch sweet Mrs. Rogers all day long as a grown adult. Her warmth is apparent even only in a photo.
Kristen Lewandowski, a mom of one of the babies, tells ABC News Joanne's message for the families, which we're positive her husband would've echoed. "She was so sweet and so sincere and just wished us the best of luck as new parents," she said, "and just told us to support one another and we thought that was great advice."
Ready for your heart to melt a tad more? Joanne wore one of her husband's famous cardigan sweaters for the visit and when she arrived, hospital staff sang a piano rendition of "It's a Beautiful Day in the Neighborhood" for her. The employees also wore red t-shirts that looked like her husband's classic sweater.
They even gave a nod to Rogers' iconic tennis shoes by outfitting the babies in wee crocheted versions. We have simply died of cuteness. Goodbye cruel world.
Joanne met with the babies and their families after the photos and chatted with them, saying that her husband would've loved doing just that — seeing the babies in their outfits and talking with their parents. During a recent appearance on GMA to discuss the upcoming Fred Rogers biopic, A Beautiful Day in the Neighborhood, Mister Rogers' wife was only proud that the world is still looking to him and his amazing heart all these years later.
"Is that not exciting?" she said. "How absolutely wonderful that he's become history. To me, it's just unbelievable and I'm thrilled for him."
So are we.