NFL Bans Kneeling During National Anthem
by Valerie Williams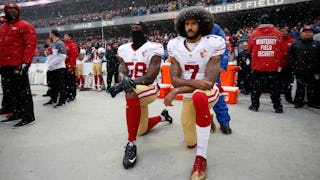 Image via Michael Zagaris/San Francisco 49ers/Getty Images
NFL will fine teams with players who don't stand during the national anthem
Yesterday, the NFL approved a new policy designed to stop peaceful protests during the national anthem before they even begin. The new ruling dictates that any players on the field are not allowed to kneel during the playing of the song but can stay in the locker room if they choose. If a player sits or kneels on the field during the anthem, the team could be fined by the league with individual player punishments determined by their own teams.
In a statement from NFL commissioner Roger Goodell, the policy was laid out:
"This season, all league and team personnel shall stand and show respect for the flag and the Anthem. Personnel who choose not to stand for the Anthem may stay in the locker room until after the Anthem has been performed," it reads.
Goodell also states that the league is "dedicated to continuing our collaboration with players to advance the goals of justice and fairness in all corners of our society."
By making moves to silence a completely peaceful method of protest that hurts literally no one? Alright then.
The Game Operations Manual is being revised to allow players who don't want to stand for the anthem to remain in the locker room without punishment. The policy is giving each team the ability to decide how a player in violation of the ban will be punished. "Each club may develop its own work rules, consistent with the above principles, regarding its personnel who do not stand and show respect for the flag and the Anthem."
The kneeling protests began in 2016 when NFL quarterback Colin Kaepernick first took a knee during the national anthem to protest racial injustice and police brutality. In Goodell's statement about the new policy he says, "on-field protests created a false perception among many that thousands of NFL players were unpatriotic."
Anyone who has read the Constitution would say otherwise. What Kaepernick and other players who followed his lead did was possibly the most American thing you'll ever see on a football field.
Let's remember the real reason behind this new "policy" by recalling what President Trump said last fall about NFL players who kneel. "Wouldn't you love to see one of these NFL owners, when somebody disrespects our flag, to say, 'Get that son of a bitch off the field right now. Out. He's fired! He's fired!'" said Trump during an Alabama rally.
Let this sink in: the president is influencing the policy of a private company to the tune of quashing an individual's right to peacefully protest.
Fortunately, not all team owners are behind the kneeling ban. Acting owner of the New York Jets, Christopher Johnson, has come out in support of his players who want to peacefully protest during the anthem. In an interview with Newsday, Johnson said "If somebody [on the Jets] takes a knee, that fine will be borne by the organization, by me, not the players. I never want to put restrictions on the speech of our players. Do I prefer that they stand? Of course. But I understand if they felt the need to protest. There are some big, complicated issues that we're all struggling with, and our players are on the front lines. I don't want to come down on them like a ton of bricks, and I won't. There will be no club fines or suspensions or any sort of repercussions. If the team gets fined, that's just something I'll have to bear."
The team's Twitter account also shared a statement from Johnson supporting his players. "Our focus is not on imposing any club rules, fines, or restrictions," he says.
Hopefully, NFL teams will do as good of a job dishing out penalties for players who don't stand during the anthem as they do taking action against players who've been accused or convicted of domestic abuse. Which is to say, not penalizing them at all.
This article was originally published on