NFL Player Shares Heartbreaking Instagram Post After Losing His Infant Son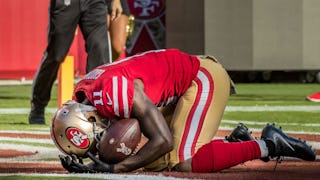 Image via Douglas Stringer/Icon Sportswire via Getty Images
Marquise Goodwin lost his infant son hours before game
Marquise Goodwin fell to his knees after his first touchdown as a San Francisco 49er on Sunday. It was an emotional moment, but no one knew that just hours earlier, Goodwin and his wife Morgan had lost their first child after a premature delivery.
Goodwin's touchdown was the first of the game on Sunday, and came in the second quarter when quarterback C.J. Beathard hit him for an 83-yard score. As he beat the last defender, Goodwin blew a kiss to the sky. Once he made it safely into the end zone he crossed himself, then fell to both knees and bent over at the waist, his forehead to the turf, his head in his hands, the football cradled in his left arm.
As his teammates surrounded him, helped him to his feet, and hugged him, it was clear that Goodwin was deeply emotional. No one knew why until after the game, when he posted the following picture and note to his Instagram account, breaking the news about the loss of his son:
https://www.instagram.com/p/BbawTQNjXQg/
In his post, Goodwin shared that he and his wife lost their baby "due to some complications, and had to prematurely deliver him early this morning around 4 A.M." He went on to call his wife "courageous" and "resilient," saying, "The pain (physically, mentally, & emotionally) that she has endured is unbelievable."
After the game, Goodwin quickly left the stadium and didn't speak to the media. It wasn't until hours later that he published the Instagram post about his son.
This isn't the first time an NFL player has gotten back on the field so soon after such a tragedy. Just last month, Buffalo Bills' tight end Logan Ryan suffered a similar loss to Goodwin's when he and his wife lost their daughter, who had been due in April. Ryan missed practice the following day, but returned to work the day after that and played in that Sunday's game.
These players return quickly not because they aren't grieving and not to prove what big tough men they are. They go back to work for the same reasons many of us would — because for a few hours, they're able to focus on something other than their pain, and because they find comfort in the routine. But they also return for reasons many of us can't understand — for professional football players, your teammates become your family. Going back to the locker room isn't like going back to a shift at work among strangers, it's going back to be with your brothers.
Would their teammates understand if they weren't there? Absolutely. Was it more healing for these players to be there for their teams? Obviously, yes. And the feeling is mutual. As 49ers' safety Eric Reid told The San Francisco Gate, "I'm glad that we were able to get him the ball, especially on a day like today for him…I have so much respect for him, to come out here and still play, with the hurt that he had in his heart, and to ball out."
This article was originally published on