NHL Team Celebrates 11-Year-Old's Birthday After No One Came To His Party
by Christina Marfice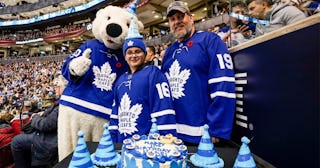 Toronto Maple Leafs/Twitter
After a disappointing birthday, a Toronto hockey fan's favorite NHL team rallied to give him a special day
When Toronto Maple Leafs hockey fan Kade had a party for his 11th birthday, none of the friends he invited came.
That's when his dad posted a photo of Kade to Twitter, asking his followers for birthday wishes for the poor kiddo.
And boy did Twitter come through. The tweet went viral, and Kade received happy birthday messages from all corners of the globe. But maybe the most exciting people to see the tweet were members of his favorite hockey team, the Leafs. They decided that the 11-year-old deserved a better party, and a surprise he would remember for the rest of his life.
Aside from inviting Kade and his family to watch a morning practice skate, they were invited to a sold-out game where the Leafs also had their mascot on hand, plus a birthday cake and gifts. It seriously looked like the party of any hockey-loving 11-year-old's dreams.
Kade, his dad, and his sister all visited the stadium, where they got to meet members of the team and watch them practice, something many fans would never get to experience.
The family also got to pose with the entire Maple Leafs team for a birthday group shot.
In the locker room, surrounded by the team's gear and trophies, Kade and his family got to have one-on-one meetings with several of the players.
And then, later in the day when the Leafs played a game against the Philadelphia Flyers, Kade was given a festive party hat to wear while the team's mascot, Carlton the Bear, delivered his cake in front of all the fans who attended the game.
The sold-out crowd all sang "Happy Birthday" to Kade, who looked a little shell-shocked after such a huge surprise.
According to reporters, the Maple Leafs saw Kade's dad's tweet after he tagged the team in it, and they immediately wanted to do something to help make the kiddo's birthday a special one, despite his disappointing party.
Players on the team said that Kade was "pretty quiet; I think he was a little stunned, a little shocked. But I thought he had a good time. We got to give him a gift, and from our eyes, it looked like he had a lot of fun in this locker room and a cool moment meeting us."
This is surely a birthday surprise that Kade will remember for the rest of his life, but that's not even all that happened. His dad's original tweet went so viral, Kade received warm messages from everyone from Canadian Prime Minister Justin Trudeau to Star Wars actor Mark Hamill.
https://twitter.com/jetpack/status/1191181429759234049
https://twitter.com/jetpack/status/1191059586955923457
Now, Kade has friends all over the internet wishing him a happy birthday, and we hope it made his big day the most special one yet.