#PrayForTheWorld Erupts After Nice Attacks, Because We Can't Believe We're Here Again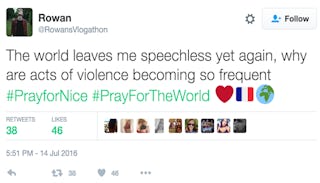 The world is in mourning following a horrific attack in Nice, France
Yesterday, what should have been a joyous celebration ended in tragedy after a truck careened through a crowd celebrating Bastille Day in the southern French city of Nice.
According to BBC, the suspected terrorist attack began around 11 p.m. local time, shortly after the finale of a fireworks display on the seafront. A delivery truck sped down the Promenade des Anglais, swerving left and right, in an attempt to strike as many people as possible. The driver continued for a little over a mile before he was shot dead by police and the rampage finally ended.
After the driver was killed, witnesses tell BBC they ran to the beach in fear that the truck was packed with explosives and would detonate. In a statement, French President Francois Hollande described the attack as being of "an undeniable terrorist nature." He also extended France's state of emergency — which has been in place since the November terrorist attacks in Paris — by at least three months.
The attack in Nice left 84 people dead and 50 more injured. At least 18 of those injured are in critical condition, and Nice's Mayor, Christian Estrosi, told local media 10 children were killed. Among the victims were citizens of many nations, including an American father and his 10-year-old son. Since the attack, people are understandably struggling for words, and have started tweeting out their grief using the hashtag #PrayForTheWorld.
This year, we have seen so many lives taken by terror and violence — not just in France or here in the U.S., but also in Istanbul, Baghdad, Brussels, Dhaka, and countless other places around the globe. It seems every few days there's a new report of mass violence happening somewhere in the world, and it's becoming difficult to even find ways to process our grief anymore, or to muster the hope that somehow we'll be able to band together as citizens of the world and get through this.
It's exhausting and painful to see hashtag after hashtag marking new tragedies, but if there's one thing these hashtags do show us, it's that there are still so many people out there who believe in peace, in love, and in freedom. We're all mourning together, and we have to know there's so much more good in the world than bad, even on days like today when everything feels so dark.
Our thoughts are with the people of Nice and those in peril all over the globe. Pray for the world, because the whole world definitely needs it right now.
This article was originally published on