Nick Jonas And Priyanka Chopra Are Producing A Reality Wedding Series For Amazon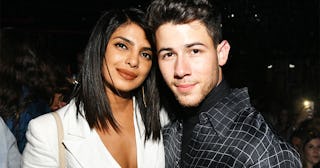 Craig Barritt/Getty
The currently untitled project will focus on Indian wedding ceremonies like the one Nick and Priyanka had last year
It's been a little over a year since Nick Jonas and Priyanka Chopra basically took over the internet with all the exciting updates surrounding their stunning wedding. Or shall we say, weddings. Plural. The pair said "I do" more than once, and apparently, that's enough experience that they're now producing their own reality show for Amazon Studios all about Indian weddings.
The couple had both Christian and Hindu ceremonies last year, and now, they'll work with other couples as they plan their own sangeet ceremonies, which is a song and dance ceremony involving both sides of the bride and groom's families. Chopra took to her Instagram account to share the happy news. "At our wedding, both of our families came together to perform a sangeet. A performance (dance-off competition style) that celebrated our love story, one of the most unforgettable moments from a very special time in our lives," she writes.
She continues, "@nickjonas and I are excited to announce a new, currently untitled project (we're still working on it!!) that celebrates the love and magic that comes from friends and family that join together through music and dance the night before a wedding. It's our #SangeetProject ❤️❤️ Happy one year anniversary baby."
Chopra also put out the offer for couples currently planning their own weddings. "We want to share this amazing experience with couples set to be wed. SO…if you're engaged to be married in the spring or summer next year (2020), we want to be part of the celebration and help you make it even more spectacular," she says.
If the weddings the power couple helps plan are anything near is incredible and opulent as their own, then this series will be a visual treat. It was the wedding the internet couldn't get enough of for very obvious (breathtakingly beautiful) reasons.
For his part, Jonas recently took to the 'Gram to share first anniversary thoughts. They're honestly way too sweet together.
We can't wait for more details to emerge on what will undoubtedly be a wedding show we can't stop binge-watching.