Nick Jonas' Intimate Rendition Of Shallow Will Make You Feel Things
by Thea Glassman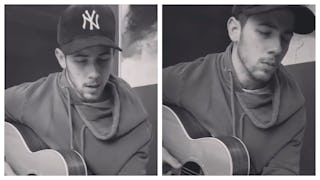 Image via Instagram/Nick Jonas
Nick Jonas performed a beautiful rendition of "Shallow" ahead of the Oscars
Did you see A Star Is Born? Have you been listening to Bradley Cooper and Lady Gaga's duet "Shallow" roughly one million times since then? Join the club, my friend. While we've been attempting that high note in the shower every night, celebrities have been performing their own takes on the song – and every rendition has been completely stunning.
Allow me to introduce you to Nick Jonas's beautiful cover. Prepare to feel lots and lots of things.
Jonas took to Instagram to share intimate footage of himself covering the song (filmed by Priyanka Chopra, natch). "In honor of Oscar weekend… such a beautiful song," he wrote alongside his video, which racked up more than one million views and proceeded to smash hearts everywhere. We've all officially gone off the deep end.
https://www.instagram.com/p/BuK_nHalQGM/?utm_source=ig_embed
"Shallow" is nominated for Best Original Song at the Oscars, which airs this Sunday at 8 p.m. ET on ABC. Lady Gaga and Bradley Cooper will be performing the song during the show – so if you're feeling very emotional after watching Jonas's performance, you really ain't seen nothing yet. Cooper recently performed "Shallow" with Gaga at her Las Vegas residency and told E! News that he was very, very nervous.
"That was terrifying," Cooper said. "I just had to, like, zen out and just pray that I wouldn't ruin her show. Because, think about it, she just crushed it for two hours….and I thought, 'Please let me just be on pitch.'"
In case you were wondering, he did just fine. Also, hellooooo red hot chemistry.
If you're having a hankering for more "Shallow" content, there's much, much more where that came from. A bunch of other celebrities have covered the hit song, including Lea Michele and Darren Criss. You'll appreciate this not just because their voices sound beautiful together but also because it's Rachel Berry and Blaine Anderson reunited ONCE AGAIN.
Also, here's Kelly Clarkson killing the song like no other. Kelly Clarkson should just sing all the good songs out there, all the time.
Alicia Keys and James Corden also got in on the fun, with their own version of "Shallow" which was a parody of the song but still completely delightful. We'll take Alicia Keys singing just about anything (and James Corden can definitely hold his own).
Pretty sure that Ally and Jackson would be very, very proud.
Alright, now go sing "Shallow" over and over again until the Oscars on Sunday. Someday we will all hit that very haunting and VERY difficult high note. In the meantime, we'll leave it to Gaga.