Nickelodeon Universe Theme Park Finally Opens This Week And It's Massive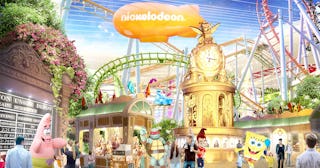 American Dream
A Nickelodeon Universe Theme Park is coming and your kids are going to love it
Families, listen up, because the big day finally arrives this week: the opening of the staggering, 300,000-square-foot Nickelodeon-themed amusement park, Nickelodeon Universe Theme Park, on Oct. 25. And judging by the photos and videos we've seen so far, Nickelodeon Universe Theme Park is bound to quickly become kids' new favorite playground.
Dubbed "the Western Hemisphere's largest indoor theme park," the Nickelodeon Universe Theme Park is located in East Rutherford, New Jersey, less than five miles from Manhattan, New York.
Located inside American Dream, a three-million square-foot entertainment and shopping center, the theme park boasts more than 35 rides, rollercoasters, and attractions. Park-goers can expect rides like the Shredder, the Shellraiser, and the Slime Streak, a family friendly coaster that takes riders on a bird's eye view of over half the park.
The park also has Dora's Sky Railway, a Blue's Clues carousel called Blue's Skidoo, and a spinning SpongeBob SquarePants-themed ride called the Bikini Bottom Crosstown Express.
https://www.instagram.com/p/B01daQugvFO/
Oh, we aren't done yet: Kids can also ride the Rugrats Reptar Go-Round, an all-ages carousel, Timmy's Half Pipe Havo, and Nickelodeon's Skyline Scream, the world's tallest indoor spinning drop tower.
https://www.instagram.com/p/B0oJyYkncvr/
SpongeBob, Dora The Explorer, and other wildly popular Nickelodeon cartoon characters will also roam the park welcoming guests. Plus, the park features the Nickelodeon Slime Stage, where families can expect live entertainment, and — yes — gallons upon gallons of slime. And, of course, the park will have plenty of food and shops.
This Nickelodeon theme park truly has it all, doesn't it?
https://www.instagram.com/p/B26-bLalUN1/
Also opening on Oct. 25 at American Dream is The Rink, an NHL-regulation size ice rink that features activities for the entire family, including open skating. The rink will also host hockey tournaments, figure skating, and more.
Later, on Nov. 27, the indoor Dreamworks Water Park will open. It features more than 40 water slides and 15 attractions, including a lazy river and a 1.5-acre wave pool called the PerfectSwell. Daredevils will want to be first in line for the world's tallest indoor body slide — a 142-foot drop. And for those who want to relax (parents, we're looking at you), reserve one of the 31 luxury cabanas designed by Jonathan Adler, a New Jersey native.
"We've positioned American Dream to become the highest-grossing center in North America, given its proximity to New York City. The center was built to drive traffic and generate sales," Don Ghermezian, president of American Dream, told WWD in May 2019.
Ghermezian added that the next chapter of American Dream — which took more than one decade to complete — is the opening of two hotels. "The plan is that we'll continue to develop," he said.
Tickets are currently on sale for the Nickelodeon park, though the first three days are already sold out. Tickets are $49.99 for an all-access ticket and $39.99 for general access.
This article was originally published on