Nicole Richie's Hair Catching Fire Is Every Mom Trying To Go Out And Have Fun
by Erica Gerald Mason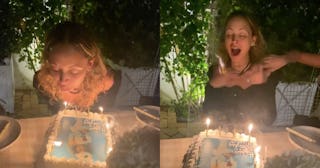 Richie uploaded a video of the moment when her hair caught fire while blowing out candles for her 40th birthday
This is how it goes: you leave the kids with another responsible adult and you head out to have some real grown-up fun. Something that doesn't require a kid's menu or crayons. Sometimes it works out. And other times, your night out goes up in flames.
And so it was with Nicole Richie. As Richie celebrated her 40th birthday with friends, she leaned over her birthday cake to blow out the candles. The festive scene, which can be seen in a video posted to Instagram, begins with Richie leaning over her cake as her friends applaud. As she blows out the candles, her hair ignites.
The video cut out as friends attempted to put out the flames. Rattled but not bested, Richie seemed to be ok after the near-disaster. Nicole posted the video with the witty caption, "Well…so far 40 is 🔥"
Her husband, Joel Madden, made a joke about the accident, using Paris Hilton's infamous catchphrase from Richie's breakout show The Simple Life, "That's hot."
A gaggle of other A-listers jumped into the comments, including Amy Schumer, Naomi Campbell, and Amber Valletta, who commented, "Happy Birthday! Welcome to the Middle Ages."
"Happy birthday, baby! Welcome to your 40's, where the party really gets started," Chelsea Handler wrote in the comment section.
Kelly Rowland of Destiny's Child commented, "My heart just dropped!!!!"
Antoni from Queer Eye felt bad about his initial reaction, posting, "I feel awful for laughing I'm sry also happy birthday!!!"
Paris herself also joined the chat to wish Nicole a happy birthday, using Richie's nickname "Bill" to do so.
"OMFG," Paris commented. "Happy Birthday Bill! Hope your ok! Love youuuuu."
Before the drama with the candles, it looked like Nicole was celebrating her birthday alongside some close friends at an outdoor dinner, with decorations including party hats and framed pictures of Nicole throughout the years.
Before her party, Richie uploaded a pic of her book stash, captioning the snapshot, "My summer reads and last set of books i will have read in my 30s."
Her sister, Sofia, posted a celebratory gallery to wish Richie a happy birthday.
"So lucky to call you my big sis. I love you beyond words," Sofia captioned the sweet photos.
As for the rest of the party, it seems Richie slicked her hair into a bun to avoid any more fiery moments.
https://www.instagram.com/p/CUH0Xx7slTG/