Nike Just Released Iridescent Sneakers And You Need Them In Your Life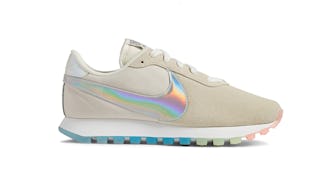 Image via Nike
You haven't lived until you've seen these awesome Nike kicks
If you're feeling your wardrobe is too dull and could use a little end of summer pick-me-up, allow me to make your day. Nike just released new iridescent sneakers and they will make your inner child dreams come true.
The company just came out with their new Pre Love O.X. design which comes with a shimmery swoosh and rainbow bottoms, leaving anyone who wears them shining bright like a diamond.
And if you think the top of the shoe is the most amazing part, check out the bottom because, hello how cute is this?
The sneakers come in a summer white, which looks more off-white but who cares because people will only be looking at the glorious, colorful swoosh. They also come in a light grey version, which sports a pastel blue sole and a more yellowish-blue swoosh.
According to Sneaker News, the Pre Love design was released early in 2018 but only came in black and yellow. It was named after famed distance runner Steve Prefontaine, nicknamed "Pre." Prefontaine was the brand's original "star runner" and athlete to represent them, so the line pays homage to him.
These rainbow kicks remind me of My Little Pony meets happy tears meets every unicorn fantasy I've ever had. There's zero chance you could wear these and not be happy. It seems an impossibility and one not worthy of consideration.
Of course, if your color palate is like Batman and you "only work in black. And sometimes, very very dark grey," there's a Pre Love for you, too. You still get the oversized swoosh but in toned down colors like black and brown, wardrobe classics that will never go out of style.
It looks as if the new iridescent variety is already sold out on Nike.com but don't worry, there's a pot of gold at the end of this sentence — you can pick them up at Nordstrom, Neiman Marcus, and several other online retailers.
All sneakers in this line also come with an inverted tongue tag, giving it a even more throwback feel. Someone find me a scrunchie, stat.
Odds are the Pre Love's will start selling out all over the place, so if you're interested in treating yourself and being a generally happy person, this may be one splurge you want to consider making.
This article was originally published on