Mom Separated From Her Kids While Awaiting Trial For Death Of Her Abuser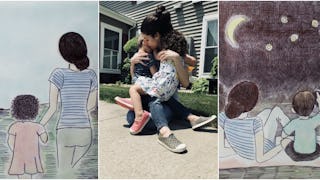 Photos via We Stand With Nikki / FundRazr
Everyone who knows Nicole (Nikki) Addimando describes her as a gentle, artistic, loving soul – and most importantly, a doting mom to her two young children, ages 3 and 5. For many years, Addimando was a stay-at-home mom; her children were her world, and if you look at photos of her and her little ones, the love she felt for them is palpable.
And yet, according to family and friends, Addimando had been a victim of alleged abuse for many excruciating years at the hands of her children's father. On September 28, 2017, Addimanndo shot him dead, in a move that her friends have described as "a struggle to defend her life."
Addimando is currently in jail, awaiting trial for the charges against her. This past June, she was released briefly from jail, and was reunited with her sweet children for 12 days. But in the hopes that she would make a bail application, she ended up voluntarily going back to jail, where she has been ever since, separated from her young children.
In August 2018, she was granted bail ($300,000 cash bail or $600,000 bond), which she is currently trying to meet.
According to an article in The Poughkeepsie Journal, Addimando's lawyers are arguing that the shooting – which Addimando immediately reported to police – was an act of self-defense.
"I think the evidence would establish that she was very abused, horrifically," Mikael Cohn, Ulster County Assistant Public Defender told The Poughkeepsie Journal in June.
A group of 8-10 friends, family, and supporters of Addimando's (who have started a fundraiser to help fund her legal defense) very much agree with this characterization of Addimando's life with her partner.
"After surviving nearly a decade of domestic violence, our sister and friend Nikki Addimando shot her partner and father of her children (ages 3 and 5) in a struggle to defend her life," they wrote on the fundraiser site. "Now she is charged with second-degree murder and faces a lifetime in prison—ripped from her young children, and subjected to the abuse and dehumanization of our criminal justice system."
Speaking with Scary Mommy, Elizabeth Clifton, one of the organizers of the fundraisers, explains that due to the sensitivities of the case and the fact that the trial is pending, Addimando's lawyers were not able to comment on the details of the case – including the years of alleged abuse that Addimando suffered from, or the specifics of her self-defense.
But her friends and family – who have held numerous gatherings in front of the court house in solidarity with Addimando – wholeheartedly believe her story.
"I can confirm that Nikki is a dear friend of mine, and that I believe that she was justified in her actions," Clifton says.
Anyone who looks at the statistics about battered women and domestic violence will understand as well. 1 in 3 women will be the victims of domestic violence by an intimate partner in their lifetime and a staggering half of all female homicide victims are killed by their intimate partners. In murder-suicides, 94% of victims are female.
What makes cases like Addimando's so difficult is that abusers can be extremely sneaky about the abuse. Abusers may come across as successful, loving people who don't even seem angry or aggressive. Victims of their abuse are terrified to speak of what is happening for fear of retaliation from their abuser. So the abuse is hidden … until the abuser or victim reaches a breaking point.
When looking at victims who kill their abusers, we often think that the abuser is not an "imminent threat," says Kellyann Kostyal-Larrier, Executive Director of Safe Homes Of Orange County in New York, an advocacy and crisis center for domestic violence victims.
"We have to understand that a domestic violence relationship is a 24/7 war zone for that victim," Kostyal-Larrier tells Scary Mommy. "The victim is constantly entrenched and entrapped in this paralyzing place. We can see this in numerous cases where victims across the United States are currently incarcerated for defending themselves."
Although Kostyal-Larrier cannot comment directly on Addimando's case, she says it's important to note that abusers are "very, very good at what they do," and are extremely "calculated and manipulative." For a victim, it's not as easy as simply leaving the abusive relationship.
"[Abusers] make very controlled decisions and victims know if their abusers are not beyond killing them," says Kostyal-Larrier. "They are aware of when things shift even if they don't have time to respond nor defend themselves. 3 out of 4 women are murdered when they have left, or told someone they are leaving, and so we must accept that victims stay at times to save their life."
As for Addimando, she will be in jail – separated from her two young children – until she makes bail. And either way, she will still need to endure the trauma of standing trial, reliving the horrors of her alleged abuse, and defending her life, along with the future of her precious children.
If you'd like to learn more about Addimando's case, or donate to her legal defense, you can visit the fundraiser here.
This article was originally published on