We Have All Been This Messy Car Mom At Some Point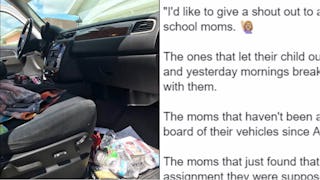 Image via Facebook
Blogger is sharing her "hot mess" mom life and it's refreshingly real
In an ideal world, parenthood would include enough time for a weekly household deep cleaning routine, regular trips to the car vacuum place to suck up the endless cascade of Cheerios that litter our car floors. But that's not real life, because kids are really messy.
It's easy to feel like a failure for not having a pristine house or car, especially with social media and the crazy amount of moms who have Instagram-ready homes. Which is exactly why mom and blogger Nikki Pennington shared an honest picture of her messy car. So those of us who aren't always perfect or clean feel less alone. Her Facebook post quickly went viral because it's so damn relatable.
"I'd like to give a shout out to all my fellow hot mess school moms," she writes. "The ones that let their child out at the drop off line and yesterday mornings breakfast wrapper rolls out with them."
And granola bar wrappers, and water bottles, and random toys. Same.
"The moms that haven't been able to find the floor board of their vehicles since August 1 of last year.
"The moms that just found that homework assignment they were supposed to sign while cleaning out their cars."
Yup, we've been there. She then goes on to talk about school projects that are shoved to the side and empty cans that were supposed to be dropped off for recycling. For me, it's the bags of clothes I meant to donate … a month ago. Whoops.
"To the moms still trying to find where that smell in the truck is coming from that started sometime after August 1st."
Mystery stenches are always fun.
"To the moms that live inside their cars four times a day, five days a week and don't have time to clean up that mess, they just move it over."
Who hasn't had weeks of shuffling kids to and from school and driving kids from one activity to the next? We all probably have at some point. In all the busyness and chaos that is raising kids, sometimes we don't even know where this shit comes from.
"To the moms that really aren't sure where some of the stuff even came from."
Pennington's whole post has moms everywhere nodding in solidarity, but it's her last paragraph that really hits home, especially in this culture of mom-shaming.
To these messy moms: "May we know them, may we love them, may we confess we've all been one, may we promise to look the other way when we see one and not mom shame and may we all know we are doing the best we can even when our car looks a hot mess like us."
Pennington, who's a mom of three sons ages 7,5, and 3, says her inspiration to write the post came from seeing other moms in the same boat, er car. "The reality is, if we want to admit it or not, when you are a mom and you are transporting your kids to and from school four times a day, five days a week or to and from activities there will be trash, there will be messes," she tells Scary Mommy. "I have mom friends with cars that look the same way so I knew I wasn't alone in this, and didn't want others to feel alone either."
She says the response to her post has been mixed, but she's appreciative of those who were supportive. "I'm thankful for the ones that said 'me too' and were transparent about their own experience," she says.
Ultimately, it comes down to honoring all of our experiences in motherhood, whether we're hot messes, clean freaks, or both (depending on the week). Being a messy mom doesn't mean you love your kid more, and being a clean mom doesn't mean you love your kid more. You love your kid in your own way.
"At the end of the day as long as the babies are happy and we stay focused on raising good human beings, then a messy car is okay."
This article was originally published on