'Project Runway' Judge Pens Powerful Essay About Her Preventative Double Mastectomy
by Christina Marfice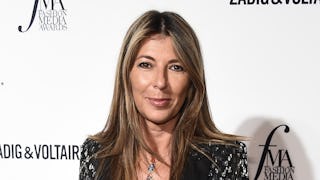 Image via Steven Ferdman/Getty Images for The Daily Front Row
Nine Garcia writes about her upcoming double mastectomy in a way that will inspire you and bring you to tears
Since she first appeared as a judge on Project Runway's first season, Nina Garcia has been a model of the fierce, badass, strong woman. She's editor of Elle magazine, a fashion icon, an immigrant, and a confident, outspoken expert on the runway. She's an inspiration. And now, as she's revealing that she will undergo a preventative double mastectomy, she's inspiring women all the more.
In a heartfelt essay for Elle, Garcia revealed that she tested positive for a genetic mutation that could make her more likely to develop breast cancer. For several years, she underwent regular testing. Eventually, though, tired of the constant doctor appointments and worry, she decided to have the mastectomy.
"I was living in a loop of testing, every day waking up thinking: Is today the day I will get cancer? I no longer wanted to have these scary thoughts, and I knew the only way they would stop was to schedule the surgery," she wrote. "The answer was clear."
"As an editor, I'm used to expressing myself in words, but now I'm having a difficult time finding the right things to say. I've been confronting my emotions and keep asking myself the same few questions. Am I scared? Yes. Am I relieved? Yes. Am I making the right choice? Absolutely," she writes.
Rather than bringing relief, though, Garcia found the decision plunged her into a hole of worry and isolation. A total mastectomy is a tough surgery with a high possibility of serious complications. Not wanting to worry her family any more than they already were, Garcia kept that all inside, until she couldn't. Finally, she reached out to a friend who had had the surgery, and found a woman who was ready to lift her up with love and support.
"She immediately texted back a hilarious and comforting missive," Garcia wrote. "'So sorry you have to endure this upcoming TEMPORARY Hades, but I will be your tits fairy! You WILL get through this and you'll actually discover lots of new things—new shows, books, and people who demonstrate they are your truest friends. I had the same instinct to be private but ultimately needed to lean on my friends and am so glad I told people because they want to help.' She then went on to list all the practicalities, from the best pillow to the most comfortable bra to the seatbelt pad that I'd need to install in my car. I burst out laughing. And then I cried."
Garcia found through reaching out to other women that she knew many who had had similar experiences. Together, they shared ways to cope with the worry, the anxiety and the trauma. And here is the first lesson we can all take from Garcia's inspiring essay: Women lift each other up. We share these kinds of burdens. But only if you share them.
There's another lesson in Garcia's essay. As she writes, "I realize I'm incredibly privileged to be where I am today. I have options and insurance and access to the best medical care. My heart is heavy for the millions of other women out there who are not as lucky. Who do not have insurance or the means to get tested, or who don't have access to the latest technology. As an immigrant, I'm also hyperaware that there are women around the world who have no access to mammograms and are unnecessarily dying of breast cancer."
"So here I am." she writes. "Still scared. Still not looking forward to what I'm sure will be a pain-in-the-ass (or boob) surgery. But I am so deeply grateful."
While science has continued to advance, rates of breast cancer deaths have declined over the last two decades. But breast cancer is still the second most deadly cancer for women, and one in eight women will develop an invasive form of it in her lifetime. Many of those women don't have the means to fight and prevent like Garcia can.
Garcia's story, as well as other public battles shared by celebrities like Angelina Jolie and Shannen Doherty, remind us that no one is immune to getting sick. We have a responsibility to keep fighting for equal and equitable healthcare access for all people, so everyone has the best options available to fight. And we have a responsibility to keep listening to these stories and rallying around the people who need empathy and support to make it through life's hardest battles.