NJ School Pledges To Keep Snow Days During Virtual Learning
by Valerie Williams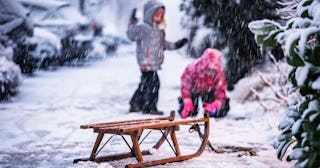 picture alliance/Getty
A New Jersey school is protecting snow days amid the coronavirus pandemic
As the coronavirus pandemic has upended just about every aspect of life, we've learned to adjust to the new normal. Our kids have been asked to do school in ways they never have before, gamely donning masks all day or seeing their teachers onscreen only. Everything is different and while we all try to cope, there's some rituals that should stay the same no matter what changes have come about as the result of COVID-19. One of them is snow days — and a New Jersey school has vowed to keep them during virtual learning.
As a lifelong resident of a snow belt city, one of my very first thoughts when schools pivoted to virtual this past spring was, "what about snow days?" After all, if school districts in snowy states figured out a way to have school from home, wouldn't that mean no need to call off school when a foot of powder falls overnight? While some schools may go that route, Mahwah Township Public Schools in New Jersey plan to preserve the time-honored tradition of not holding classes of any sort when inclement weather rolls in.
In a statement, they explained their reasoning. "We have decided that few childhood acts remain unchanged due to covid-19 and we will maintain the hope of children by calling actual snow days due to inclement weather," they said. "Snow days are chances for on-site learners and virtual learners to just be kids by playing in the snow, baking cookies, reading books and watching a good movie."
In other words, our kids shouldn't be treated like adult employees in cubicles, expected to work at all costs. They're kids. If it snows a bunch and in-person school is cancelled, students and teachers shouldn't have to soldier on. They should be snuggled on the couch watching movies with a mug of cocoa or tromping all over the yard building snowmen and rolling around. This is childhood. No pandemic should mean the end of that kind of magic.
According to The Washington Post, Mahwah Township is unusual in its decision to keep snow days. New York City public schools have preemptively cancelled snow days for this school year with districts in other states hinting they'll follow suit. Joshua Goodman, an associate professor of education and economics at Boston University, tells the Post there's "no justifiable reason" for snow days when kids can learn remotely, considering all the lost instructional time due to the pandemic.
"Our goal should be to squeeze every available minute out of this school year for student learning (and more general care by teaching professionals)," Goodman said. "Parents and students are already receiving substantially fewer educational services than they used to. Cutting back further for bad weather would be laughable if it weren't so awful an idea."
This year, kids have lost so much. Proms, graduations, sporting events, dance recitals — not to mention, many children have lost loved ones to the pandemic. The little things, like snow days, still matter to kids and us grownups should be doing all we can to preserve certain parts of childhood.