Tokyo Olympics: COVID State Of Emergency Declared, Fans No Longer Allowed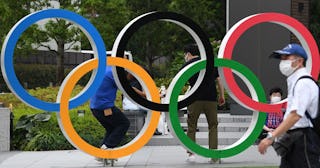 KAZUHIRO NOGI/AFP via Getty Images
Ahead of the Olympic Games, Japan has banned fans and declared a state of emergency for Tokyo to help curb a rise in COVID-19 cases
The government of Japan announced yesterday that the Olympic Games will be held under a state of emergency, and quickly followed up with a ban on fans, which will mean no spectators instead of just reducing the number of people allowed to watch in person. The opening ceremony is just two weeks away as the city tries curbing the growing number of COVID-19 cases.
According to the Japan Times, Prime Minister Yoshihide Suga announced yesterday that the state of emergency will take effect on Monday and last until August 22nd. "New cases in the greater Tokyo metropolitan area have been rising since June," Suga said. "Stronger measures have become necessary in those areas, but could be lifted early if we see evidence of the positive impact of the vaccine rollout."
The Olympic Games begin July 23 and run through August 8, so they'll be held entirely within the state of emergency's dates.
As part of the state of emergency, bars and restaurants in Tokyo and Okinawa will be asked to stop serving alcohol and close their doors by 8pm. Attendance at Olympic events, which had previously been limited to 10,000 people, and was then reduced to 5,000 people or 50 percent of the venue's capacity, will now be free of spectators entirely.
According to the Associated Press, the ban was announced by the International Olympic Committee and Japanese organizers, making the games only viewable on TV. "Taking into consideration the impact of the delta strain, and in order to prevent the resurgence of infections from spreading across the country, we need to step up virus prevention measures," Suga said.
During Suga's announcement yesterday about the state of emergency orders he was sure to mention that not having spectators was still a possibility. "I have already said I won't hesitate to have no spectators," he said.
The part of the order that limits hours for bars and restaurants and bans alcohol sales is an important one in hopes of keeping the reveling to a minimum. Health Minister Norihisa Tamura said, "How to stop people enjoying the Olympics from going out for drinks is a main issue."
Even the opening ceremony will be fan-free, for good reason. "Two-thirds of the infections in the capital region are from Tokyo, and our concern is the spread of the infections to neighboring areas," says Ryuji Wakita, director-general of the National Institute of Infectious Diseases.
Of course, when it comes to holding Olympics while a pandemic is still happening, the bottom line is money. The AP notes that pushing the Olympics to 2021 instead of holding them last summer means a postponement to cashflow for the IOC. Broadcast rights of the games accounts for about 75 percent of the organization's income with estimates showing they'd stand to lose as much as $4 billion if the Olympics were canceled completely.