Don't Expect To See Halloween Or Christmas Peeps On Shelves This Year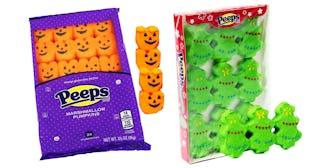 Peeps
Even Peeps has had it with 2020
This is either going to be the best or worst news you've heard all day: There will be no new holiday Peeps happening this year. As with most things in 2020, the beloved marshmallow goodie has been impacted by the pandemic and its makers, Just Born, announced that we'll likely have to wait to Easter to get our hands on them.
Peeps, like candy corn, seem to be an extremely divisive subject — like cats or pineapple on pizza. For those of us who love a good Peep on Halloween or hidden in our stocking on Christmas morning, there will be no seasonally-shaped marshmallow treat for us. The company confirmed the news to Delish, breaking dentists' hearts everywhere.
"While Peeps Marshmallow Candies, Mike and Ike and Hot Tamales would typically be available in fun shapes and packaging sizes for the Halloween and holiday seasons, unfortunately, the seasonal varieties will not be in stores again until 2021," the company said. "In early May, we resumed limited production after making extensive changes in our plant that ensure the safety of our associates. This situation resulted in us having to make the difficult decision to forego production of our seasonal candies for Halloween, Christmas and Valentine's Day in order to focus on meeting the expected overwhelming demand for Peeps for next Easter season."
There is a semi-bright light at the end of this sugary tunnel, though. Amazon is selling its Easter neon bunny variety, so if you cannot wait until spring (who can?), you can close your eyes, emotionally cut the heads off these rabbits, and pretend they're pumpkins. Or, if you still have some left over from last holiday season in your emergency stash, just rip into those. They don't go bad. It's part of their charm.
Plus, it gives us room in our bellies to try something new, like, say, this six-pack of sparkly unicorn tears. It seems like the 2020 thing to do.
"We look forward to offering our fun seasonal shapes and packaging at all major seasons again beginning with Halloween of 2021," the statement contained. "We appreciate your interest in Just Born's iconic candy brands, and we look forward to being a part of seasonal traditions again next year! We have been bringing sweetness to people's lives since 1923, and we hope to continue to do so for many years to come."
It's not the news we wanted to hear, but the safety of the company's employees is the most important thing.
This article was originally published on