First All-Female Hurricane Hunter Crew Makes History Tracking Dorian
by Julie Scagell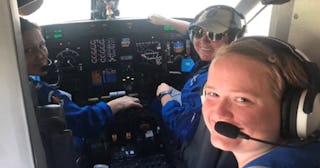 YouTube/ABC News
Three women made history as the first all-female hurricane trackers
Hurricane Dorain is making its way towards the east coast of Florida and residents are watching closely as experts try to determine exactly where and when it will make landfall. The National Oceanic and Atmospheric Administration (NOAA) Aircraft Operations Center sent a flight crew on a mission to record Dorian's every move to help better estimate this information. That crew was comprised of three women, the first all-female flight crew.
When they tweeted out a photo on Thursday, people were pumped to see this first all-female crew in flight.
The photo showed Capt. Kristie Twining, Cmdr. Rebecca Waddington, and Lt. Lindsey Norman aboard NOAA 49. The three ladies flew around Hurricane Dorian to collect data over nearly seven hours, covering more than 3,600 miles.
Their tweet says, in part, "#NOAA49 prepares for a Hurricane #Dorian reconnaissance mission with the first all female three-pilot flight crew."
People are obviously here for this flight crew tracking Dorian's every move:
https://twitter.com/jetpack/status/1167147107985309696
https://twitter.com/jetpack/status/1167152160632692743
A lot of people wanted to know where these women operate from and whether they are military. NOAA Aircraft Operations Center responded by letting people know they are a part of the Air Force Reserve, saying:
The trio took off from Lakeland, Florida on Thursday and gathered data on the storm according to aviation, flight tracking, and data platform company FlightAware, The Hill reported. Dorian is now a Category 4 hurricane with 145 mph winds.
Many pointed out, gender shouldn't even be a topic of conversation at this point. We should just be thanking these human beings for their service. But of course, gender is still very much an issue so, these women should be celebrated for breaking down barriers. Young girls who wish to follow in their footsteps someday should know it's not only possible, there are badass women that have come before them paving their way.
Trump issued a state of emergency in Florida as residents brace for impact, and Florida officials declared a state of emergency earlier this week, asking residents to prepare themselves with at least seven days' worth of supplies (which may or may not include a Hurri-cake sold at Publix).
The women made history becoming the first all-female three-person flight crew but two of the women, Waddington and Twining, were on the first hurricane hunting mission when Hurricane Hector hit Hawaii last year when they piloted an NOAA hurricane mission. "While we are very proud to have made history yesterday by being the first all-female flight crew, we are more proud of the mission we are doing and the safety we are providing for people," Waddington told CNN.
Cheers to the women for doing what they can to keep people safe and making history in the process.
This article was originally published on