'Noelle' Is The Disney+ Holiday Original Movie People Can't Stop Talking About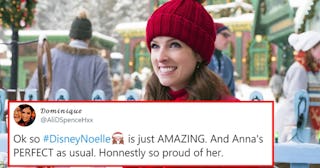 Disney + and AliDSpenceHxx/Twitter
Before you watch anything else on your new Disney+ subscription, queue up Noelle
I truly never thought I'd say this, but sorry Netflix, Lifetime, and Hallmark. The best holiday movie since Elf is out this year, and to watch it, you're going to need to use that new Disney+ subscription we know you got. The feel-good hit of the holidays this year is Noelle, an absolutely adorable Christmas comedy starring Anna Kendrick and Bill Hader. Trust me on this one — I've already watched it three times and it has earned a permanent spot in my yearly holiday movie rotation.
The movie follows Noelle and Nick Kringle, the brother-and-sister pair who, after the death of their father, Kris Kringle, are in charge of making sure Christmas lives on. Because customs say Santa is supposed to be a man, the burden falls on Nick to become the new Santa. Unfortunately, it doesn't go too well.
Nick does not feel the holiday spirit, and when he confides this to Noelle, she encourages him to take a weekend trip to a tropical locale to clear his head before Christmas.
When Nick doesn't return, it's up to Noelle to take the reindeer and sleigh for a rescue mission — to Phoenix, Arizona, where Nick was last seen. With the help of a friendly private detective who may be on the naughty list, as well as her trusted elf nanny, Noelle tries to track down Nick before Christmas, which is just days away.
And along the way, Noelle meets people from all walks of life, who, despite her growing up in the North Pole, teach her what the Christmas spirit really is. Yes, you will cry. You will also laugh, a lot. This movie is funny, sweet, endearing, and has a perfect feel-good holiday message delivered by an incredible cast. It's the best holiday movie to come out in years, and the internet is starting to take note.
Look, I get that we're still a little over a week before Thanksgiving. But it's never too early for a little holiday spirit, and Noelle delivers more than enough to make you forget it's not technically Christmas season yet. It'll get you excited for all the best parts of the holidays, and no, I do not mean presents. I mean music and family and love and doing good things for others. And hot chocolate, of course.
If you haven't watched Noelle yet, what are you waiting for? The Mandalorian can wait, because this holiday season, Noelle is going to be the movie everyone is talking about. It's just that good.
This article was originally published on