Our Family Isn't Christian, But We Celebrate The Heck Out Of Christmas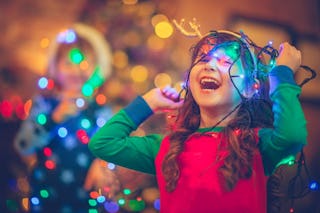 ArtMarie / Getty Images
My husband and I are Jewish, and although we were both raised in non-religious families, we still identify as "culturally Jewish" and celebrate most of the major Jewish holidays. Mostly, that means that we get several golden opportunities a year to gather with our extended families, tell jokes and old stories, and fill our bellies with potato latkes and matzo ball soup.
It's awesome, and we love what it teaches our kids about family, history, culture, and tradition.
But just as Passover and Chanukah count as important holidays in our home, so is Christmas. In fact, if you asked my kids, they would tell you that Christmas is probably the biggest and best holiday they celebrate all year—and definitely the one they look forward to the most.
We go all out with a big, bedazzled tree, lights, decorations, and visits to Santa. We bake Christmas cookies while listening to Christmas music. We make sure to leave cookies out for Santa on Christmas Eve, and a couple of carrots out for his reindeer. Just like most kids, my kids can't sleep all night Christmas Eve, and wake up at the butt-crack of dawn on Christmas morning.
Oh, and we make sure there is a whole slew of Christmas gifts for them under the tree. Of course.
But wait, you might ask, a non-Christian celebrating Christmas?
Well, it actually turns out that it's quite common, and we aren't the only non-Christian family partaking in Christmas fesitivities. According to a Pew Survey from 2013, 9 out of 10 Americans (the vast majority) celebrate Christmas. Of the non-Christians surveyed, a whole 80% of them said that they celebrated Christmas, with most saying they view the holiday as a cultural celebration rather than one of faith.
See? Told you I wasn't the only one. Far from it.
Increasingly, for most people, Christmas has become more of a cultural holiday than anything else. Of the 2,001 people interviewed in the Pew Survey, for example, almost half don't view the holiday as religious, with 32% seeing it primarily as a cultural event.
What's more, when asked what they look forward to most about Christmas, only 11% of those surveyed look forward to the religious aspects of the holiday, whereas almost 70% view Christmas primarily as a time to gather with friends and family.
Now, none of this is to say that Christmas should not be celebrated as a religious holiday for those who choose to do so. For church-going Christians, Christmas is and should be one of the holiest holidays of their faith. Just because many of us see the holiday as a non-religious event doesn't change what it means to millions of Christians out there.
But for many of us, it's just not about that. And that's OK.
The qualities of togetherness and good cheer are enough to make Christmas the most wonderful time of the year. Add in the scent of pine trees, gingerbread, and a crackling fire, and we are in cozy holiday bliss. Honestly, eating a fresh batch of peppermint bark is pretty much akin to a religious experience for some of us.
Interestingly, according to the survey, the de-emphasis on Christmas as a religious holiday seems to be a relatively recent thing, heralded by the younger generation.
"Younger adults are less likely than older adults to see Christmas a religious rather than cultural holiday, they're less likely to say they will attend Christmas services and they are less likely to believe in the virgin birth," Greg Smith, director of U.S. religion surveys at the Pew Research Center's Religion and Public Life Project, tells the Huffington Post. "It's consistent with a lot of research that says young people are quite distinctive in the way they approach religion, with young people leading the growth of the religiously unaffiliated."
The survey found that for the majority of people who celebrate, Christmas traditions are rooted in childhood traditions, and that these traditions are still very much embraced by all—except with less emphasis on activities like going to mass or Christmas caroling. However, childhood traditions like gathering with family, putting up the tree, sending holiday cards and gifts, and crafting and baking are still top priorities for the majority of Americans, regardless of religious affiliation.
Basically, for most of us, Christmas is just the ultimate feel-good holiday. It's about tradition and making memories for our children. It's about family, warmth, togetherness, peace, kindness, and good will.
And though there are definitely people out there who might be critical of a non-Christian celebrating the holiday, or about the growing de-emphasis on the religious aspects of it, to you I say, "Don't be a Grinch." And also, "You do you, and I'll do me."
Your Christmas can be what you want it be, and so can mine. Because really, we could all use a little extra joy in our lives, and Christmas feels to many of us like the ultimate way to bring good cheer, merry, and a much-need dose of happiness and hope to all.
This article was originally published on