A Guy With Literally Zero Science Background Was Just Made Head Of NASA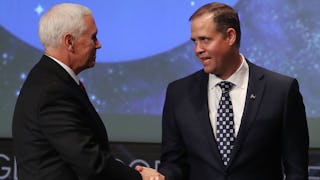 Image via Mark Wilson/Getty Images
Non-Scientist Jim Bridenstine is new head of NASA
A man who's vastly unqualified for the job was just made the head of NASA because President Donald Trump seems determined to destroy the country in every way possible. NASA is pretty freaking into science, so it's beyond ridiculous that Jim Bridenstine was made administrator of the space organization.
And this isn't a "he's a Republican so people don't like him" thing. Lots of Republicans loathe this guy, too. Not only does Bridenstine not have any qualifications for the job, but he's also an all-around terrible human. He sucks so much that other politicians wrote a letter about how much horrible he is to avoid him becoming the head of NASA. Sen. John Thune (R-S.D.), Bill Nelson (D-Fla.), and Sen. Patty Murray (D-Wash.) wrote a letter on Oct. 26 urging their colleagues to vote against Bridenstine becoming the highest-ranking official at the National Aeronautics & Space Administration.
"Rep. Bridenstine's background makes him an extremely concerning choice to lead the critical agency and its 19,000 diverse employees," Murray told Washington Blade. "Rep. Bridenstine's denial of climate science and consistent opposition to equal rights for women, immigrants and gay, lesbian, bisexual, transgender and queer (LGBTQ) individuals should disqualify him from consideration."
It's a huge deal that this dude is a climate change denier considering NASA is the primary government organization tasked with studying our beloved planet. Plus, he has no management experience of a large organization or business. He literally meets none of the job qualifications.
Before Trump nominated him to run NASA, he "led a small non-profit organization into hefty financial losses," the Daily Beast reports. Translation: He's really bad with money, which should disqualify him from the job AGAIN since NASA has a budget of $18.5 billion, about 18,000 federal workers, and more than 60,000 contract workers. But Bridenstine isn't just bad with money; he's shady AF. Apparently, some of those "losses" at the nonprofit – the Tulsa Air and Space Museum – came from Bridenstine spending the organization's money on a company he co-owned. "This could have jeopardized the Museum's status as a tax-exempt organization," Marc Owens, an expert on tax law and former head of the Internal Revenue Services's non-profit compliance division told the Daily Beast.
His mismanagement of the museum's funds was so bad that he was accused of lying to the IRS on a form, kicked out of his position, and criticized about his time there when he ran for Congress in 2012. "The finances and certainly the financial reporting were arguably the worst they had been in recent years," Jim Bertelsmeyer told The Tulsa World. Bertelsmeyer, a former petroleum executive, is a board member of the museum. "While I respect Jim's service to our Country as an aviator, I can't imagine how he is qualified to run a Congressional District if, in my judgment, he can't effectively manage our Air and Space Museum." Bridenstine is a classic example of failing up. He failed at the nonprofit then made it to Congress, and now he's headed to NASA.
Republicans had the chance to do the right thing. Several members of their party spoke out publicly against Bridenstine running NASA. But when it came time to vote this week, the GOP embarrassed itself again and handed another unqualified white guy a job he's completely unprepared for.