The Nonprofit That Saved My Life Is Closing, And I'm Heartbroken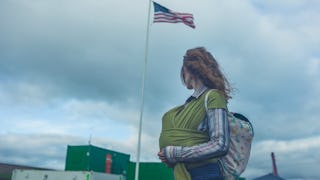 lolostock / iStock
Nobody ever plans on being homeless and pregnant. It's definitely not something you want for yourself, and especially not for your children.
But there I was, one week out of the hospital after an emergency C-section, calling the local court to beg for my landlord not to evict me. Our roommate had relapsed after a year of sobriety and failed to pay that month's rent. I came up with his share just days later, but I was told it would not be accepted. The landlord decided he wanted to sell the house.
I didn't know my rights at the time and felt trapped and scared.
I was sitting on my couch — numb from the pain of my surgery thanks to medication and willingly numb to what was happening with my life thanks to the little miracle sleeping happily in the Pack 'n Play beside me. I was literally staring at the wall when my baby's father walked in.
"Baby, I don't know what to do. We have nowhere to go. Maybe we should go live with your parents and take them up on their offer? Hello?"
Bless his heart — it was all I could do to agree with him politely while smiling. The reality of the situation was that my parents didn't like him and would not allow him to stay in their home. We would have to split up our family. And even then, my daughter and I might still need to seek out a homeless shelter.
I will tell you what saved me during this dark time. I was sent by Washington State Department of Social and Health Services to Courage 360 (formerly known as Washington Women's Employment) in Tacoma to take their ReachPLUS job training course.
Courage 360 is a nonprofit that helps folks like me, who have found themselves in hard times, to acquire the skills and self-confidence necessary to pull ourselves out of our current hole. They surround their students with sincere, kind-hearted teachers who do so much more than provide a valuable education. They also teach every single student to love themselves and appreciate their individuality while leaving all of the negative self-talk behind.
My classmates were mothers too, and like me, they were homeless. Courage 360 gave us clothes, and at times, food. They even helped us get jobs after the course was over through their WorkFirst program. It was while I worked through this program that I found a job doing what I love.
There were so many people — family members and caseworkers alike — who told me it wouldn't happen. They told me to give up my dreams and dismissed my years of public relations experience. Unlike those naysayers, Courage 360 never encouraged me to do anything other than stay confident and never give up.
Because of them, I didn't have to be numb anymore. I shiver when I think of that day, staring at the wall — both for how close I was to the edge and what could have become of me and my family. In those weak moments, I thought of giving in, throwing in the towel, and saying "fuck it." I felt hopeless, but it turns out I just needed someone to help push me forward, to believe in me. Courage 360 gave that to me.
Now here we are, one year later. I have a stable, rewarding career that I love. I have safe, secure housing. I'm surrounded by family. My life, and my circumstances, have completely turned around.
But I was saddened to find out this week that the program that saved me, Courage 360, just closed. It feels so wrong that I have continued to benefit from their help every single day while they struggled to keep their doors open so that they could continue to help people like me. They helped so many students, young struggling mothers, to write their own success stories. Why wasn't it enough for more people to want to help them? I don't understand, and I'm angry.
There's a beloved local pet rescue which operates near the former Courage 360 offices. They have made some viral videos showcasing the work they do to save homeless pets. They will probably never shut down thanks to an outpouring of support and volunteers. And don't get me wrong, I think that is fantastic, and I believe these animals deserve loving care, but I can't help but feel like society is telling us what they deem to be more important during times like these. Courage 360 saved my life and my daughter's life, and we are not the only ones. They saved so many, and there are countless other families who could benefit from their help.
I just wish I could have saved them in return. We need more nonprofits that are willing to give a much-needed hand to those of us whose eyes people refuse to meet on the street. But they can't function without support.
Today, I am heartbroken for this nonprofit that shaped my life and for the many other organizations who are surely struggling to keep their doors open, but still wish to give to those who have the least. I hope they know that they make a difference and their work doesn't go to waste even if they lack the support they need to keep pushing forward.
This article was originally published on