Nordstrom Officially Cuts Ties With Ivanka Trump's Brand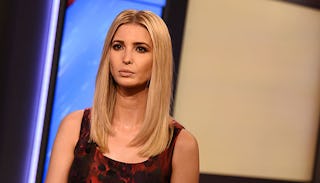 Image via Ilya S. Savenok/Getty Images
Nordstrom cites declining sales for their decision
Consumers just showed up in the biggest way possible and made their message clear: we hold the power. Nordstrom announced today that they'll no longer carry Ivanka Trump's brand. The decision comes amid calls for boycotts against retailers that carry Trump products.
The company claimed declining sales led to their decision, effectively discouraging any theories that the move was politically motivated. "Each year we cut about 10% [of brands carried] and refresh our assortment with about the same amount," a Nordstrom representative told Business Insider. "In this case, based on the brand's performance we've decided not to buy it for this season."
Trump's brand, which bears her name, sells women's clothing, shoes, and handbags at a mid-level price point. The products range anywhere from $50 to $200. Other retailers that carry her products include Macy's, Amazon, Lord & Taylor, Marshalls, and Zappos.
The Ivanka-branded items have been falling off Nordstrom's website for weeks, according to Business Insider. Brand strategist Shannon Coulter, who launched the anti-Ivanka Trump movement back in October, has been tracking inventory for the brand on Nordstrom's website. There were 71 Ivanka Trump products available the first week of December. Last week, the number fell to 26. On Wednesday, there were nine.
Now, only four pairs of reduced-price shoes remain.
While Nordstrom is clearly trying to tell the world that they're not playing politics, it's easy to see how politics and activism played a role in this. Consumers who are anti-Trump effectively boycotted the brand, which hit Ivanka Trump and her family where it hurts – their bottom line. Consumers have power. Our pockets have power. Our everyday decisions regarding what we buy and what we decide to support with our money really have an impact.
The boycott was helped along in part by an open letter penned by a woman who demanded Nordstrom stop selling Trump products. The letter went viral before the presidential election and obviously caused quite a chain of events. The self-described lifelong Nordstrom shopper wrote, "The hate speech directed at African Americans, Latinos, Jews, Muslims, LGBT people, and women by the Trump campaign is unacceptable and does not seem to represent Nordstrom's values. Yet Ms. Trump continues to defend it, and Nordstrom continues to defend her."
I too am a habitual Nordstrom shopper. Well, I was, until the list of anti-Trump retailers came out and Nordstrom was on it. This isn't the first time I've boycotted a brand for what I interpret as outright wrongness, and it certainly won't be the last. I have Muslim and Jewish family members. My friends and fellow humans all fall into groups that have been hatefully targeted by Trump and his supporters. Did it annoy the crap out of me to boycott a company I adore? Hell yes, it did! Nordstrom is my jam. It about killed my shopping soul to drive past the Nordstrom Rack near my house without going in.
But, I put my money where my mouth is. That's the price we pay for conscious capitalism and being authentic to our convictions, and in this case, it paid off.
This article was originally published on