Teacher Washes Kid's Mouth Out With Soap, Internet Rushes To Her Defense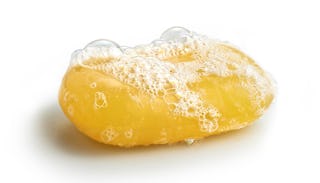 Image via Shutterstock.
It's been a long time since any form of physical punishment was allowed in school, but one North Carolina teacher apparently didn't get the memo.
Tiffani Staton, a kindergarten teacher at Wiley Elementary, resigned this week after she was accused of washing a six-year-old student's mouth out with soap. Administrators began investigating Staton after another employee complained about the incident. She was suspended without pay on Wednesday and ultimately filed her resignation. According to the Greensboro News And Record, no charges will be filed.
You'd think news about a teacher forcing kindergarteners to eat soap would ruffle a few feathers, but surprisingly, many local parents are coming to the teacher's defense. On the Facebook page for a local news station that covered the investigation, the conversation quickly turned to calling out parents for being too weak in disciplining their kids:
"We never had the issues and disrespect back when I was growing up…my mama smacked me in the mouth numerous times and my dad backhanded me and knocked on to the couch for disrespecting them….get your heads out of your butts parents!!!"
"Entitled brats. Thats the way of the world now. I got my rear tore up more than once. I'm still alive."
"Considering soap has a lot of chemicals which are not meant for ingestion, she should be fired. If I had a child I would much rather you take a paddle to their butt oposed [sic] to potentially poisoning my offspring."
"What did the child say to the teacher? If the child used foul language, wash that mouth out with soap."
Call me weak-willed or over-sensitive, but no teacher has the right to institute this form of punishment, especially not with a six-year-old child. It may not be the same thing as a spanking or hitting a kid with a ruler, but that doesn't make it acceptable, and the vast majority of people agree.
According to a 2014 ABC News poll, 72 percent of the 1,015 adults surveyed said physical punishments should never be allowed in school. That's even as a full 50 percent of that same set of parents admitted to using physical punishments at home. Teachers simply don't have the authority to enact these forms of discipline, especially when so many of us strive to avoid using the harsh punishments our parents and grandparents received.
Regardless of what happens at home or how parents choose to discipline their kids, what happens at school is different. Teachers should practice age-appropriate, positive discipline and work with parents to eliminate ongoing behavioral issues. This teacher was absolutely right to resign if she was actually washing anyone's mouth out with soap, and shame on her for enacting such a harsh and controversial punishment in the first place.