Kim Kardashian Says North Has A Private TikTok Account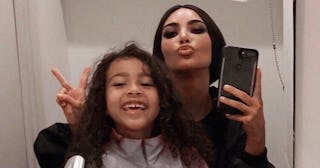 Kim Kardashian/Instagram
Kim Kardashian has revealed that 6-year-old North has a private TikTok account
Does your kid love to steal your phone and take videos of themselves singing songs from Frozen 2 and Peppa Pig, chasing the dog through the house, or talking out their homework assignment? You aren't alone. There are lots of little children out there making home videos on their parent's phones, and some of them — including North West — even have their own social media accounts. In a new interview, the Queen of social media, Kim Kardashian, reveals that her 6-year-old daughter recently joined in on the fun family pastime of social media and has her own personal account on the video making app TikTok.
"North has a private TikTok account, so we do lots of TikToks together, and she puts them in drafts," Kardashian told Entertainment Tonight at the Vanity Fair Oscars party in Beverly Hills, where she walked the red carpet with husband Kanye West.
While North West does have a private account, she isn't actually sharing videos on the social media site.
"She's not allowed to post them, but we have a lot of TikToks," Kim continued.
"I might post one soon," she added with a smile.
Considering North is often featured in her famous mother's social media posts, and recently rapped for classmates at her private Los Angeles school, it isn't surprising that she, too, is a fan of showing off her skills.
In case you are curious what sort of videos North is making on TikTok, the sassy, young thang recently got down in a TikTok video with her pal Caiden Mills.
What Kim might not realize is that North isn't exactly supposed to have a TikTok account, per the social media site's guidelines. "TikTok is intended for users age 13 and over. Please do not allow a child under the age of 13 to use the app," they write in a section dubbed "For Parents." However, seeing as Kim is a social media pro, it is likely she is seriously monitoring her daughter's private account.
TikTok isn't the only social media website North is mastering. Kim recently revealed that her daughter has figured out how to use Instagram as well.
"North took my phone this morning and when I got it back I realized she figured out how to use IG," she wrote on her Instagram Story, per Us Weekly. "She posted so many videos to 'closest friends.'"
She went on to share a few of the videos North had made, mostly singing as she walked around her palatial house with a Hello Kitty filter on her face.