North West Brought Down The House Performing At Kanye's Fashion Show
by Christina Marfice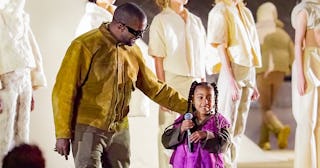 Arnold Jerocki/Getty
North West performed at Fashion Week and proved she's very much her dad's kid
You can always trust Kanye West to come up with something memorable to make his Yeezy fashion shows stand out from the crowd. But at this year's Paris Fashion Week, he surprised us all with the most perfect musical guest: His six-year-old daughter, North West.
On the Fashion Week stage, as Kanye's models walked by in a line, little North took the mic and rapped over a synthesized beat to provide the music for the show. What's even better is the music seems to be a rap she wrote herself. As the models showed off their monochrome neutral outfits, Northie stole the show in her bright purple puffer vest with matching pants and boots (presumably all Yeezy) and rapped lyrics like, "Cool, cute, cool, yeah! What are those?"
Probably the best moment of the entire show came toward the end, when Kanye headed out on stage to join his daughter. He gave her a huge hug while she continued rapping, and then, at the end of the song, she gave the most adorable shout out to her cousin/BFF, Penelope, who was in the audience. "I love you Penelope!"
Seriously, people are loving North's performance. We're basically ready for her to drop an album and go on tour now.
Also, can you even believe her stage presence? If you had put me at just six years old on a stage with a microphone in front of that many people, I would have giggled awkwardly and then stood there shaking until someone came to my rescue.
This isn't the first time that North West has gotten on a stage and flexed her genetic musical prowess. She made headlines not too long ago for performing an original song she wrote herself for her classmates at their school dance, further proving that she's about to take the musical world by storm.
She's also basically a secret TikTok celebrity already. Recently her mom, Kim Kardashian West, revealed that North has a bunch of TikToks recorded and saved in her drafts folder — being only six years old, she's not allowed to actually post them online yet. But her mom did us all a solid and posted one to her Instagram, and it was an instant classic. This girl is a born performer.
Is it too soon to just start engraving her name onto some Grammys? We have a feeling it will save some time to just do it now.