Norway Announces 'Extensive' Coronavirus Lockdown For Entire Country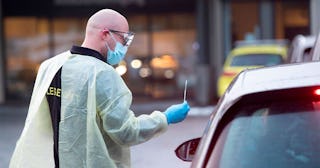 TERJE BENDIKSBY/Getty
Norway puts the entire country on lockdown in an attempt to slow the spread of coronavirus
On Wednesday, March 11, 2020, the World Health Organization classified novel coronavirus and COVID-19, the deadly respiratory illness it causes, a pandemic and now world leaders are taking serious measures to halt the spread of the virus. Last night, President Trump banned nearly all travel from Europe to the U.S. Now, Norway — with more than 700 positive cases — is shutting down almost everything across the country.
Following in Italy's footsteps, the current epicenter of the pandemic, Norway announced its own country-wide "lockdown." Per The Local DK, Norway shut down all kindergartens, schools, and universities for two weeks and all government employees who do not perform critical functions have been forced to work from home or take a paid leave. The government has banned all indoor events with more than 100 people and all indoor cultural institutions, museums, libraries, and leisure facilities like hair salons, tattoo parlors, and gyms will be forced to close for the next two weeks beginning tomorrow, March 13. The government is also encouraging religious institutions to close as well.
Then on Thursday, the Norwegian Minister of Health and Care Services Bent Høie announced via state broadcaster NRK even more lockdown procedures that she called "the most extensive Norway's population has experienced in peacetime." Peter Imanuelsen, a Swedish journalist, put it another way, calling the restrictions "the toughest measures since Nazi occupation," and outlined them on Twitter.
In addition to the previously announced shutdowns, the government is now banning all sporting events, will force all visitors (regardless of symptoms) to self-quarantine unless they're from another Nordic country, is making restaurants close unless they can guarantee a three-foot distance between patrons, is encouraging Norwegian citizens abroad to return home immediately, and is prohibiting health professionals from traveling anywhere.
"Strict and effective measures are necessary to prevent the spread of infection in Norway," Høie stated.
In an attempt to lighten the load, the NRK is encouraging people to embrace their "home offices" and share their photos on social media.
Norway is a small country — home to 5.368 million people. For comparison, this would be like shutting down an entire U.S. state. Considering that social distancing is the only answer to containing the coronavirus at this point, these seemingly extreme measures may not be so extreme after all.