These Nostalgic Touches That Will Turn Your House Into A Vintage Dream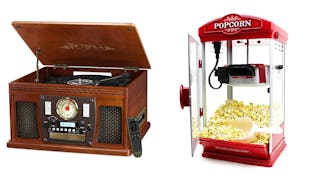 Image via Amazon
Add some extra charm to your house with these nostalgic touches
Is your house in dire need of a very cute, very retro makeover? Then, I'd like to turn your attention immediately to some ridiculously nostalgic house decor. Prepare for all of the vintage ~magic.~
If your kids are always pushing hard for a hot dog dinner, then they're going to be extra excited to use this bad boy. It comes with mini tongs, an adjustable cooking timer, and a drip tray for zero mess.
Nothing says nostalgic quite like dusting off your old records and getting down with a victrola. There's also a built-in CD player, cassette player, and AM/FM radio. And, don't worry, it's not completely old-fashioned – you can use the built-in bluetooth to play music wirelessly. Win-win.
Movie night just got so, so much more fun with these vintage popcorn bags (and a scoop!) Bring on the Netflix, and bring it on now.
And, I mean, you're 100% gonna to need an old school popcorn machine while you're at it.
Bring on all the sundaes and root beer floats with this adorable soda fountain style bar set.
While we're on the subject of root beer floats, you're probably going to want to snag this two piece soda fountain glass set. I can taste the frothy ice cream goodness now…
This kitchen wall clock comes with a built-in thermometer and a 60-minute timer. Now that's some good multitasking right there.
Bring that clock cuteness to your bedside table, as well. It comes complete with a nightlight, an alarm, and ticking that's actually quiet (thank goodness for that).
Nobody can accuse you of using too much salt when it's coming out of this very cute, very retro shaker.
Add a little bit more retro magic to your living room with this side table, which comes in sleek blue, red, green, or white.
Fact: reheating leftovers will be way much more appealing with this retro baby blue microwave.
Your house has just officially become a delightful, retro dream. Now go eat all the popcorn and drink all of the root beer floats.
We may earn fees from purchases made via links on this page and affiliated sites. All opinions are our own.
This article was originally published on