I Am So Not Ready For The Holidays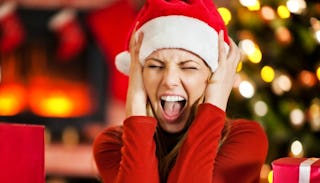 iStock/KristianSekulic
When I was newly married, I was thrilled and excited to host my first round of holiday celebrations in our new home. I was practically giddy as I skipped down the aisles of Target to buy all the trimmings to make our home feel special during my favorite time of the year. Because we were first-time homeowners, we needed all the decorations, and I went a tad overboard.
I was bound and determined kick Martha Stewart's ass at being a holiday hosting badass. Christmas and New Year's Eve were a blur of white twinkle lights, red tulle bows, 10 different kinds of homemade Christmas cookies, and a lot of chardonnay.
I owned the holidays before I had kids. Now? Not so much.
Frankly, I'd give all the gravy in my turkey-shaped gravy boat to have someone else handle the holidays because I'm pretty sure Martha Stewart would laugh her ass off at the holiday operation I'm running now. And I know my mother and mother-in-law are secretly laughing at how far the mighty has fallen when they see my store-bought Christmas cookies and half-assed exterior lighting attempt.
Somewhere amid the diapers and the sippy cups, and in between the sleepless nights and carpool, my holiday preparations have gone down the toilet. Decorating the Christmas tree has become a chore I hate, and I'm caught with my pants down when it comes to getting my Christmas shopping done on time. Thank God for Amazon Prime, otherwise Santa would be arriving on December 28 up in this joint. In a matter of years, I've gone from Martha Stewart to the Lindsay Lohan of holiday preparedness.
Just the other day, I looked at my calendar for a work event and realized I only have eight weeks until the holidays are in full swing. As I stared openmouthed at the calendar and mentally calculated all of the school parties, craft supplies, presents, and parties we'd have to cram into our schedule, I broke out into hives. We had eight weeks to cram every Hallmark moment and Currier and Ives memory into our already overloaded calendar of events. The holidays aren't even here yet and I'm exhausted.
Guess what, kids? Santa is about to have a nervous breakdown and it ain't gonna be pretty.
And listen, I get it. I know that perfection at the holidays is impossible. Just trying to keep prying eyes away from the present hiding spots is enough to make a mom day drink, let alone worrying about making sure that the Christmas lights are evenly strung. I know that I shouldn't give two shits about the type of wrapping paper I use or the meal I serve to our family on Thanksgiving.
But it's hard not to get swept up into the manufactured Hallmark magic that is crammed down our pumpkin pieholes from October until December. And it's frustrating that I don't have the time I'd like to devote to tree trimming, baking cookies, and generalized merrymaking (I always have time for eggnog, though).
I have long since realized that my kids don't remember that Santa has specific wrapping paper or that there are certain things I always put in their Christmas stockings. I know that it's more about the smiles on their faces when we share special times together on our family room floor, covered in discarded wrapping paper and toys that are impossible to remove from their packaging.
It's just that moms bear the brunt of the holiday heavy lifting and I feel like this time of year always catches me off guard. And, no matter how much I pledge that I will start the madness sooner and schedule my time more wisely so as to avoid my holiday hive breakouts, I never seem to be able to get my shit together.
So, this year, if you stop by during the holiday season, you'll notice that my Christmas lights are a little crooked and that some of the strands are randomly blinking. You'll see that I forgot to hang up every single handmade ornament from kindergarten, and I have no earthly idea what happened to our advent calendar. And you'll see that I'll enjoy the merriment around me a tiny bit more because when you give up on making 10 different kinds of Christmas cookies from scratch, the holidays seem a little bit brighter.
My presents will be bought at the last minute and my eggnog won't be homemade, but dammit, it'll have enough rum in it to make the holiday haze a little more tolerable.
And, if my mother-in-law is reading, I will gladly share my spiked eggnog with you if you'll make the Thanksgiving gravy forever, because I can't do the holidays without some serious help these days.
This article was originally published on